Arata Uzumaki
Talk

0
18,569pages on
this wiki
editArata Uzumaki

(アラタうずまき, Uzumaki Arata)

Debut

Appears in

Anime, Manga and Movie

Personal

Birthdate

May 1

Gender

Male

Age

Part I: 16
Part II: 32 (Presumed Deceased)

Height
Weight
Blood type

O

Classification

c:naruto:jonin

Affiliation

Konohagakure

Clan

Rank

Ninja Rank
Ninja Registration

54637

Academy Grad. Age

10

Chūnin Prom. Age

13
"This shinobi world is beyond repair, but hey who cares, I mean we are all destined to die one day anyway"
— Arata talking to his best friend, Hiruzen
Arata Uzumaki(うずまきアラタUzumaki Arata) also known as the "Unstoppable Shinobi"(止められない忍び, Tomerarenai Shinobi) is a member of the infamous Neo Akatsuki where he is an active participant.
Background
Arata, was born into the Kurama Clan and Uzumaki Clan during the founding of Konoha. Due to the constant wars with the powerful Uchiha Clan, Arata's father who was an Uzumaki, died in battle only two months after his birth, leaving Arata's mother a widow and Arata without a father. Caring for Arata and his mother, his clansmen (both Uzumaki and Tensei) offered to help take care of him, and would often watch Arata when the mother needed to. At the age of five with the newly formed village known as Konohagakure, Arata enrolled into the Academy to start his path to become a shinobi. Being a private student of the First Hokage, and his younger brother Tobirama Senju, Arata was advanced and ahead of most of his teammates, excluding his best friend Hiruzen Sarutobi. This advantage left him so far ahead of his class that he graduated the academy the next year, and solely trained with his masters.
Now the age of six, Arata displayed an amazing power. He was somehow create his dreams, which would lead to Konoha being attacked by a giant dog or cats would rain from the atmosphere above. The next day, or right after this stuff would occur, Arata would be found in critical condition and would be rushed to the hospital where he was found exhausted from using to much chakra. Hashirama, being the genius he is, finally realized that Arata was a user of the unique Yin-Yang Release and that his dreams would become reality, and that was the reason for his condition and the strange events that would occur at night. Determined to help Arata control this, he and Arata set out to train alone in what came to be, the Forest of Death, where they trained day in and day out for the next five year, where they discovered that Arata's Yin-Yang Release, was even more exaggerated because of him fully possessing the Kurama Clan's Kekkei Genkai, and even managed to control it, and his mutated form, making him the first.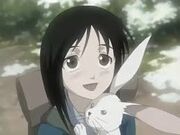 Five years finally passed, and Arata was fully able to control his special ability, but his training did not cease. He again went to train with the younger Senju, Tobirama, in order to master his
Nature Transformation
, the
Fire Release
and again he was successful. Noticing that a war was coming, Tobirama helped Arata develop techniques, which he did within the next two years.
First Shinobi World War
A matured Arata, participated in this war, under the commander of division two, which was sent to the front lines. Because of the division that Arata was placed in, he witnessed many deaths, of his friends, his friends parents, and even some of his family, but this did not leave him traumatized. During the war, Arata's already weaken division, found themselves in a quagmire. One Hundred Thousand Kumogakure forces surrounded the division and completely trampled them, but Arata managed to escape.
Arata, after escaping these forces infiltrated Kumogakure without being seen or detected. After hearing about the Gold and Silver Brothers plan on killing the Second Raikage the week before realized that he was still weak, and assassinated the leader of Kumogakure in his sleep, and swiftly left the village before the deceased Raikage was found, and Arata was never discovered to be the one behind the assassination.
Following the end of the war, Arata's intelligence was (by this point), known, and because of his genius-like intellect, he was apart of the council that created the treaty which ended the war. With his best friend, Hiruzen, being the hokage, Arata was given a position as his adviser; thus the two began recovering from the damages left by the war.
Post War
Twenty years, after the war, and the recovery of Konoha, the economic stability of the village was terrible, not to mention the people of Konoha, who had lost family in the First Shinobi World War, cried for revenge. Realizing that a war was approaching again, Arata left his post as the adviser of Hiruzen, and geared up to be a shinobi on the front lines.
Second Shinobi World War
This war is where Arata, who is now an adult, completely dominated the other forces. Arata was so powerful that Iwagakure shinobi were commanded to retreat from Arata if they see him. One day Arata and his division approached an Iwagakure bridge and huge battle escalated ending in Konoha's favor. A order from Onoki the leader of Iwagkure, was to destroy the bridge to prevent Konoha' more specifically, Arata's advancement into their land.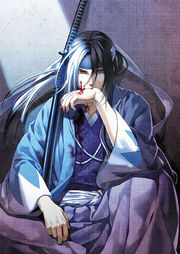 During the middle of the war, Arata returned to Konoha to attend his
Nawaki
, his cousin, funeral. Nawaki's death was a major factor in Arata's opposition to war. After Nawaki died, Arata did not return to the battlefield for many months, but during this span, his top student
Dan Kato
died as well, leaving him dumbfounded and angry, and soon he returned to the war more aggressive then he was before.
Arata ended the war in a single battle, by destroying Sunagakure and Iwagakure forces completely using his newly developed Space-Time Ninjutsu known as the Black Hole Sealing Technique, which devoured an entire army of people leaving the two villages severely weakened. This is the battle that earned Arata the name, "The Unstoppable Shinobi". After this war, Arata informed Hiruzen that he was leaving, and he did so. Sometime after he left, he joined the Neo Akatsuki.
Personality
Arata, being a very handsome, wise, and strong shinobi, is completley complacent. Although he is extremely self-satisfied with himself, he does not perceive other to be below himself; training others, and complementing the raikage of excellent examples of this trait. Although, Arata only knew his mother, most Elders of the Uzumaki clan, compared him to his father, who was a very calm and collective person, meaning Arata is a very calm and collective person.However, during a battle, he becomes fierce and aggressive, similar to his mother, according to Tsunade. Unlike most Konoha shinobi, Arata is not a strong believer of the infamous Will of Fire, but is also not a believer of Curse of Hatred.
Abilities
Arata, someone who served as an adviser to the hokage, served as a commander of the Konoha front lines during the Second Shinobi World War, forced enemies to destroy their own bridge to prevent his advancement, and was recognized as the "unstoppable shinobi" is undoubtedly an immensely powerful shinobi.
According to Hiruzen Arata has three fearsome traits; one being his ability to apply all of his skills to fit his current situation, the second trait is his ability to master and create technique's with ease, and his last most fearsome trait is his extremely strong life force and stamina, along with vitality.
Ninjutsu
Arata is not only good at using ninjutsu, but is knowledgeable when identifying and creating it as well. Arata unlike most shinobi didn't focus solely on one skill but multiple skills; Fuinjutsu, Space-Time Ninjutsu, and Nature Transformations. Arata throughout his career as a shinobi has displayed his mastery of these three skills.
Even at a young age, Arata was trained in the art of Fuinjutsu, a trademark ability of the uzumaki clan. His teacher, Hashirama claimed that Arata was blessed with natural talent for Fuinjutsu, but he also had an excellent work ethic when it came to working with it. Arata started to master the simplest technique's, one being the Contract Seal and another being the Uzumaki Sealing Technique, but eventually he "revised" these techniques and made them his own. Eventually Arata became skilled enough to create the ultimate sealing technique which litterally devoured an entire group of shinobi during the Second Shinobi World War, basically securing's Konoha's victory.
When it comes to Space-Time Ninjutsu, Arata takes directly after the master himself, Tobirama Senju. Unlike the other skills that Arata had natural talent for; he was unable to "naturally" master this skill, and needed to put in the extra work. He put in the extra work and mastered the skill. By this point Arata was such a master at Space-Time Ninjutsu that he was able to create a technique, called the Black Hole Teleportation Technique which teleported him great distances, and could make him temporarily intangible.(Although, Arata is only able to make one part of his body intangible at a time.
The last of his ninjutsu abilities, are his Nature Transformations. Being a user of the unique Yin-Yang Release, and mastering it completely, is a huge testimony to his abilities. Arata is able to create actual clones and even surround himself in a shroud similar to that of Susanoo. His second nature transformation is the Fire Release. He mastered this Release, along with his friend Hiruzen, and they both became masters of this nature transformations. Arata is able to use simple techniques such as Fire Release: Great Fireball Technique, almost as perfectly as an Uchiha Clan member would.
Genjutsu
Arata always had a natural gift when it came to genjutsu, and didn't have to work very hard at all due to him possessing his families Kekkei Genkai. His full skills, are currently unknown but he has shown to use multiple technique's which manipulate time itself similar to one of the most powerful genjustu in existence, the infamous Tsukuyomi. Arata has also has the ability to manipulate people by giving them false illusions, which is considered his most fearsome trait, in genjutsu, and is the reason why he rivals or surpasses Itachi Uchiha.
Arata's kekkei genkai, makes his genjutsu completely irresistible, and almost inescapable. Because he has inherited the kekkei genkai entirely, just like Yakumo Kurama, but unlike Yakumo, he can control it completely allowing his genjutsu to become real. Examples of this is when he challenged Kisame, who he had placed in a genjutsu (in which he was surrounded in chains). Suddenly in reality, Kisame found himself surrounded in chains, however Arata claims that this wasn't his full abilities.
Arata also have full control over his second personality allowing him to transform at will. When he does transform into his second personality, his genjutsu skills increase significantly. They increase so much, that he is able to create anything he wants, just by imagining it, however he cannot do this for more than hour, (thirty minutes to the least) because of large amount of chakra it controls.
Taijutsu
Although not is prefered type of combat, he is very good at it. Proof of this is when he was able to counter his best friend Hiruzen, and his master Tobirama at the samw time, although this was only for a brief second. His Taijutsu skills come from his sharp reflexes and speed, allowing him to constantly dodge enemy attacks, and throw a devastating blow before the enemy could react.
Intelligence
Arata is a master strategist and is really Sagacious, according to Hiruzen, is the reason for most of his success in a battlefield. Arata, who was a genin at the time, was able to determine when to attack the Second Raikage, and he was successful. Not only was he able to kill him, but was able to do this without anyone ever finding out, a very difficult feat indeed. Arata also led mamy battles and most he had survived, again a very difficult feat to complete.
Stats
Quotes
"Your reign as the raikage ends now, but your spirit will live on, forever in the afterworld"-Arata talking to the Second Raikage.
"Heh, Well you know me, I can never sit in one place"-Arata talking to Hiruzen.
"I find the Five Great Nations to be nothing except an excuse to ruin the lives of non-shinobi. Our wars destroy lands, kill the innocent, and just cause the cycle of hate to continue forever. That's why i have to leave Hiruzen. I know you understand.-Arata talking to Hiruen about leaving Konoha.
Trivia
Although was not intended by the author, Arata shares multiple similarites to Jiraiya. Both are:
Well known throughout the shinobi World
Master infiltrators
Users of the Rasengan.
Arata is my Second Uzumaki character, the other being Sojiro.