Azusa Nakano
Talk

0
18,552pages on
this wiki
editAzusa Nakano

(中野 梓, Nakano Azusa)

Debut

Appears in

Manga only

Personal

Gender

Male

Age
Affiliation

Yamataikoku

Team
Clan

Nakano Clan
Azusa Nakano (中野 梓, Nakano Azusa) is a ninja adopted into the Nakano Clan and a member of team Trinity Blitz alongside his brother and sister. He is the son of two ninjas from the north. After defeating Sano Mikoto he and his brother and sister was given the tile of the Sannin of the North.
Appearance
Edit
Personality
Edit
Around friends, and even some strangers, he can be playful, teasing, and wacky, often making perverted and sarcastic jokes in order to get a good laugh. Around who he considers of higher social rank, or respectful to him, he is quite polite and respectful, expressing a calm manner while keeping a steady conversation with whoever he is interacting with. He is rarely known to get irritated towards others, only firing back a joking remark of his own whenever he is insulted. By the way he speaks, it is difficult to tell whether he is actually angered or upset by something, or if he is simply feigning it for fun.
Even in battle, his emotions can appear to be deeply conflicted. At one moment, he can appear to have an enjoyment for battle, entertained when his opponent is able to fight on even grounds with or is overwhelmed by him. At another point, he will hold an open disgust and loathing for his opponent, and will often attempt to end the fight quickly by killing them. Despite the former, he himself has stated he has a heavy dislike of fighting, preferring to use words over weapons and only fighting when necessary. Before he even engages in a battle, he will occasionally ask the other side to not attack, with the promise of not drawing a sword himself.
Abilities
Edit
Twilight Curse Mark
Edit
Unlike most Azusa was born with a curse mark instead of having one placed on him. His teachers thinks this is because both of his parents possesed powerful curse marks that effects them even with not activated. His curse mark the the form of tow different ones that each gives him a unique ability. Sometime before part two both of his curse marks fused together into a single mark located in the middle of his chest.
Lunar Mark
Edit
The Lunar mark takes the form of a red plus sign within Azusa's left eye and a seconed one on his left hand. When active the two marks glow and a glowing red tribal symbol runs up the length if his arm to his elbow. With this he is able to absorb energy from attacks with his eye to heal his body. With his arm he is able to create shields of stops attacks and enter anothers dream. Unlike the Solar mark Azusa does not suffer form acute insanity, but over user will cause insanity.
Solar Mark
Edit
The Solar mark takes the form of a red pentagram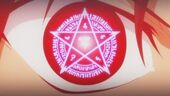 within Azusa's right eye and a seconed one on his right hand. When active the two marks glow and a glowing red tribal symbol runs up the length if his arm to his elbow. With this he is able to unleash power genjutsu
attacks
and
energy blasts
. With his arm he is able to create beast of
light
and
darkness
. Unlike the Solar mark with each use Azusa insanity grows to the point where he once attempted to kill is brother and sister.
In conjuction with his small physique, Azusa is noted for being very fast, defeating an enemy before he had a chance to react. Befitting his appearance, Azusa seems to prefer taijutsu combat, along side weapon combat in which he has shown tremendous prowess. He is shown to have an immense tolerance for pain, as he was able to withstand having his arm stabbed mutiple times without flinching.
Fudōshin
Edit
Fudōshin (不動心 literally: "immovable mind", "immovable heart" or "unmoving heart") is a state of equanimity or imperturbability. It is a philosophical or mental dimension to a martial art which contributes to the effectiveness of the advanced practitioner. Azusa learned this from Sigma by being constanly placed under genjutsu. Using this his mental defense has drastically increased to the point where he is virtually unable to have genjutsus casted on him. After learning this his Yin Release jutsus have grown stronger due to his unwavering mind.
Swordless Style
Edit
The swordless style is Azusa's most notable style, after learning that without a sword he was till able to mimic its effects by flowing his yin and wind natures around his hand or fingers. With this he is able to create a near invisible blade that has the ability to cut just like an normal sword. When used in conjuction with his Taijutsu or his curse mark it is noted that it can cut through chakra and become more dangerious. A second ability of this style is that he is able to notices the weakness of swords and break them.
Sovereign Mode
Edit
Sovereign Mode is a unique ability gained by Takeko and her brothers after defeating Sano Mikoto and freeing the souls he had obtained. Sovereign Mode allows them to call upon one of the three great souls possesed by Depore. Granting them great strength increase and healing. In order to use the three must be in around one another.