Hanabi Hyuga
Talk

0
18,646pages on
this wiki
Hanabi is a member of the
Hyuga Clan
. She is
Hinata Hyuga
's younger sister and the daughter of Hiashi Hyuga and
Hikari Hyuga
. Her father considers her more talented than Hinata, but not as talented as Neji Hyuga.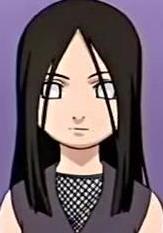 Biography and Personality
Hanabi was raised slightly differently than Hinata, perhaps due to her seemingly higher power level. For this reason, she is more assertive, but is still very kind like her sister. Both she and Hinata are good friends, and she looks up to Hinata as the female role model in her life as their mother died in childbirth. She also wants to please her father after seeing how he thinks of her sister as a failure in combat skills.
At the age of 10, she met Shujitori Kuramitsu and his secretary bird, Squark. She and Shuji became friends, but she seems even more friendly towards Squark, perhaps because Squark seems to have taken a liking to Hanabi.
Master Solo's Fanfiction
Hanabi was placed into an arranged marriage to keep her position in the Main House but turned down the deal, instead choosing to go to the Branch House so that she could be with Moegi. Enemies of the Hyuuga clan learned of this and kidnapped her girlfriend. When Hanabi came to the rescue, Moegi's kidnappers killed her and took off with her Byakugan.
-edit by HanabiHyuuga. Master Solo is my ff.n name. Yes, I know, I named myself after a girl that I killed off in one of my stories.
Quotes
"Father... watch me!"
"I want to please my father!"
"Um... hello. Nice to meet you... sir?"