This article, Hyūga Clan, contains content taken directly from our mother site. All credit of such content is reserved the original authors over at Narutopedia, the original article can be read here: "Hyūga Clan" .
Hyūga Clan
(日向一族, Hyūga Ichizoku)
Debut
Appears in
Anime, Manga, Game, Movie
Clan Data
Affiliation

Konohagakure

Kekkei Genkai
The Hyūga clan (日向一族, Hyūga Ichizoku) is one of the four noble clans of Konohagakure. All members born into this family possess the Byakugan, a kekkei genkai that gives them extended fields of vision and the ability to see through solid objects and even the chakra circulatory system, amongst other things.
Background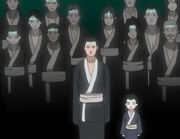 The clan is separated into two parts, the main house (宗家, Sōke) and the branch house (分家, Bunke), a system that protects the secrets of the Byakugan from outsiders. The main house runs the family while the branch house protects it. The members of the branch house are branded with a cursed seal upon the third birthday of the heir to the main house. This seal gives the main house members absolute control over the branch members, because they can destroy the branch members' minds with a simple hand seal, or cause them great pain to punish them. This seal also makes sure the secret of the Hyūga's Byakugan is safe, because it seals the Byakugan after the wearer of the seal dies. Because they are essentially servants, simply because of their birth order or heritage, some branch house members are hostile to those of the main house.
Abilities
Members of the clan are instructed in the use of the Gentle Fist style, which uses the Byakugan to view the opponent's Chakra Pathway System and deal precise blows to disable and impede the flow of chakra. Due to training in this style, Hyūga clan members tend to have excellent chakra control. This is emphasized in techniques that utilize this chakra control, as well as the nuances of the Gentle Fist Art. They also possess the ability to expel chakra from every tenketsu in their body which allows them to fully utilise chakra with attacks such as the Eight Trigrams Palms Revolving Heaven and the Gentle Fist Art One Blow Body techniques. The clan's strongest techniques, like the Eight Trigrams Sixty-Four Palms, are only allowed to be taught to members of the main house. Neji Hyūga, however, has bypassed this restriction by learning them on his own, earning a reputation as a "genius" in the clan.
Trivia