Inu Sebvert
Talk

0
18,650pages on
this wiki
""I am will never give up, ever! As long as blood run through these veins i will continue to fight for the greater good! That is my ninja way"-Inu Sebvert to Akihiko Senju"

editInu Sebvert

Hazmat
Toxic Terror
Wandering Spider

Debut

Appears in

Anime, Manga, Game and Movie

Voice Actors

English
Japanese

Personal

Birthdate

April 1

Gender

Male

Age
Height
Weight
Blood type

AB

Affiliation

Konohagakure

Team
Clan

Sebvert

Rank

Ninja Rank
Ninja Registration

43511

Academy Grad. Age

12

Chūnin Prom. Age

13
Inu Sebvert (柴犬,Inu) is a Jonin level shinobi for Konohagakure, hailing from the Sebvert Clan. Inu is recognized as "Spider" due to his expertise with poisons. He is a main character in the story The Shinobi From Within the Shadows. He is also a member of the Team Sannoto. Inu, Daisuke, Esako and Sannoto all travel together on perilous adventures, leaving no man behind.
Background
Edit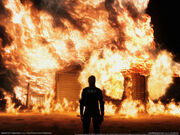 Inu Sebvert was born into the Sebvert clan as the child of Sophey and Karuki Sebvert. Inu was praised for his expertise in poison and Taijutsu. When Inu was eleven, his grandparents were murdered in a fire created by a rouge shinobi who, them self, also perished in the fire. During that time period, Inu fell into a great depression and started to fail in school. Thanks to his friends, he recovered from the lost of his grandparents and vowed that he would become a great ninja in honor of his grandparents. Afterwards, Inu started to earn decent grades in school but, he mostly focused on training with his father. Since Inu was four, he would trained with his father and since they both had the same chakra nature, he was able to learn some of his fathers techniques as he progressed through his training.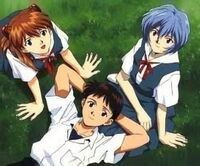 After Inu graduated from the ninja academy at the age of twelve, he was placed in team Sannoto by Sanntot's request. During the first day of training, Inu decided to play one of his classic pranks of sneaking up on the teacher but, failed terribly. For Inu's first mission, it was to guard the famous celebrity Koyuki Kazahana from a band of bandits that tried to attack her during the film of her second movie. (No affiliation with Naruto the Movie: Ninja Clash in the Land of Snow). The mission was a great success and, the squad was given a reward from Hiruzen Sarutobi. When Inu turned thirteen a year later, he partcipated in the chunin exams and successfully became a chunin. Although Inu isn't very intelligent, he relied on his speed and strength from training with both his father and Sannoto.
Inu Sebvert continued on various missions and most of them were a huge success. Due to his massive completion of missions, he became a jonin at the age of seventeen. During this time of Inu's life, he was learning how to perform more techniques for his wind style chakra nature, his new earth style chakra nature and, his new fire style chakra nature. Inu suddenly realized, that he completed his promise to his grandparents and became a successful ninja.
Appearance
Edit

Inu Sebvert is the second tallest in his squad but, he is the talllest out of hims, Esako and Daisuke. Inu has a firm stature even though you can't really tell because, he never sits still. Inu appears his age and, he doesn't have similar facial features as anyone else.
Inu Sebvert is very fair skin and, he is muscular. Inu's most distinguished features are, his muscles and, his bright brown eyes. Although Inu's hair appears black, his hair is brown. In part one, Inu was only 5 feet and two inches tall and he weighed 85 pounds, same as his mother during this stage of her life. In part two, he is 5 foot 8 and he weighs up to 139 pounds, seven pounds more than his mother at this time.
Inu has a couple other outfits in his wardrobe such as, a red coat with a red and black scarf that his grandmother knitted for him. Accompanied with that outfit is black pants and, black shoes. Another outfit that he wears is, a black long sleeved shirt with black pants and, black shoes. The other outfit that he wears for special occasions is a brown blazer with a white undershirt, along with black pants and black shoes. The outfit he wears for training is, a white jacket with a black tank top underneath with black shorts and shoes, with a number 3 on the shirt.
Personality
Edit
Inu is usually described as being very silly, energetic, nice and brave. During his time in the academy, Inu was always overly energetic, a reason why Shikamaru Nara saw him as a nuisance, and another reason why he and Naruto were such good friends. However unlike Naruto, Inu was kind to everyone, so despite his energetic behavior, the girls didn't see him as much as a nuisance as they did Naruto. On his first day when meeting his sensei, Sannoto, Inu attempted to play a trick on him, displaying his silly disposition. After the training when Sannoto threatened Daisuke, in an attempt to provoke Inu, Inu stood up to Sannoto, and vowed to protect his teammate. Afterwards Sannoto revealed his intention of his threat, and commended Inu on his care for his friends.
Another trait that Inu has is his ability to make people boost other's self confident through words, another reason why when he meets others, they immediately take a liking to him. Even Team Sannoto were on missions, if Inu met an emotionally distraught person; despite her being stranger, he would cheer them up. After Sannoto learned about Inu's grandparent's death, he thought that Inu would be filled with rage and distress but, Inu overcame their death and, proved his sensi that he was incorrect.
Although Inu is extremely energetic, he is a very focused person, and so he is energetic all of the time. In the academy, Inu never exceeded in his class. Because of Inu's energetic personality, he never really learned much in school. Because of this, he had to cheat during the chunin exams test, Unlike his teammate Esako Yamanaka, who knew each question. Because Inu sat behind Esako, he wasable to copy the answers by summoning a shadow clone and turning it into a butterfly so he could receive the answers.
After hearing multiple stories about the destruction of his clan from his grandparents, and his father, Inu was mentally traumatized. He usually doesn't like to speak of deceased people because it triggers the memories and images of his grandparent's death, resulting in him being fueled by rage. Although this makes him considerably more powerful, it also makes him extremely dangerous to everyone around him. When enraged by this mean, Inu can't help but attack anyone around him, sometimes forcing even his friends to restrain him until he calms himself.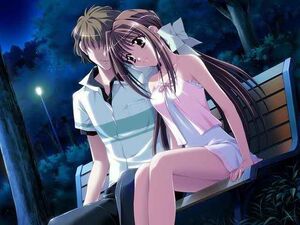 Although Inu is very energetic and doesn't care about romance, he thinks that he has a one-sided relationship with Esako. Inu realized that he liked Esako when she was the first one of his friends to comfort him after his grandparent's death. Although Inu doesn't really tell anyone his secret, he thinks that he can tell his sister Allison Sebvert, every reason why he is in love with Esako.
Abilities
Edit
Since Inu was four, his father realized that he had great potential and that he could be stronger then he. Inu has an enormous amount of chakra that rivals against Daisuke Kurama. Inu not only has an enormous amount but, his chakra is very powerful. Inu inherits his athletic ability from his father
Intelligence
Edit
Inu is not very intelligent. Inu spent most of his learning time goofing off, skipping classes and, defacing school property by, spraying graffiti. When Inu graduated from the ninja academy, his mother taught him about many different academic qualities such as, mathematics and she increased his vocabulary. He had trouble remembering what his mother taught him because, his father filled his head with battle strategies and, how to tell your opponent's next movement.
Since Inu was a child, he would train with his father none stop. Inu can lift boulders but, he will have to use Chakra Concentration to assist him. Inu can also punch small boulders towards his opponent and, he can also punch a moderate size dent into the ground.
Inu had much practice running as a child because, he spent a lot of time running from his teachers. Inu also raced a lot with his father so he can be a taijutsu master.
Nature Transformation
Edit
Inu Sebvert has mastered three chakara natures, Earth, fire, and wind. Inu is capable of easily preforming many Wind style techniques such as, Wind Release: Blade of wind, and the Wind Release: Vacuum Blade. Inu didn't take very long to learn the Fire & Earth style chakra natures. When Inu is ever in a fight, he relies on his Earth style dragon to aid him.