Komota Senju
Talk

0
18,631pages on
this wiki
editKomota Senju

Personal

Birthdate

February 13

Gender

Male

Age
Height
Weight
Blood type

O

Kekkei Genkai

Dark Release

Classification

Captain Of Konoha Military Police Force

Affiliation

Clan

Senju

Rank

Ninja Rank
Ninja Registration

53643

Academy Grad. Age

4

Chūnin Prom. Age

6
Komota is the leader of the newly founded Konoha Military Police Force and is an very powerful shinobi strangely he is always followed by a strange looking bird named Fon That he extremely cares for he might care for all animals same way
Komota was an orphan.That was rasied to be an agent of Root.He was the best of the childs trained by root.He was trained to be the sucessor of danzo.Over the years after seeing what a child should never see on his fourteenth he rebeled.And easily escaped from root.Because he had been secretly been doing extra training that is much more harder than the training he receives by root for the last 5 years.After escaping he goes to the hokage and tells him what happened.And he also requested that the military police force be reformed and he be the leader.
Abilities
Edit
Taijustu
Edit
Komoto is very skilled with taijustu.His speed is amazing.And his power is nearly unmacthed.He can easily take on entire 100 man gangs by himself and when the dust settles all gang members are severly wounded to near death and hibari doesn't have a scratch on him.
Ninjustu
Edit
Komoto knows many justu of his nature types by heart.Most of his justu are extremely powerful ones.And what some considers some of the most powerful justu he considers one his weaker justus.
Nature transformation
Edit
Komato has access to dark nature charka as well as wind.He uses wind nature very well.Because of his encounter with an criminal that uses dark release he accidently absorbed some of it's power.Even though he's an senju he does not have access to wood nature or prefers not to use it.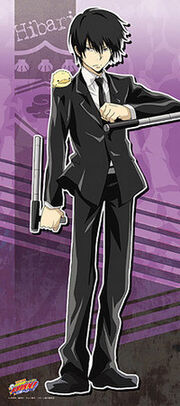 Komoto is well trained with tonfas.And he uses them as his only weapon in combat.They are made to pierce bone and flesh.He conseals them in his sleaves most of the time.If he thinks an enemy is not worthy he will use only 1 tonfa.But he always uses tonfas in some type of way in all of his battles.The main way he uses his small control over dark release is by channeling it into his tonfas to give them an dark auroa and increasing their power.In this state the tonfas can absorb charka that increases Komotas power also the tonfas themselves.
Personality
Edit
Komota always has an serious mind.His only objective in life is to keep crime off the streets.He is almost emotionless.Even though he will never say it he likes to be surrounded by friends.But he feels the need for them to be pushed away.He is likes to fight those worthy which is his secondary reason of reforming the police force and becoming it's captain.