This article, Lisanna Ikaruga, is property of RazeOfLight.
Lisanna Ikaruga

Birthdate
September 28
Age

25

Height

5'9"

Weight

126 lbs

Gender
Female
Species

Human

Blood type

B-

Partner
Previous partner(s)

N/A

Affiliation
None
Previous affiliation(s)

Kirigakure

Team
Previous team(s)

N/A

Occupation

Missing-nin

Previous occupation(s)

Jonin

Homeworld

Earth

Home country
Land Of Water
Hometown
Kirigakure
Highest rank

Jonin

Classification

Ninja

Academy Grad. Age

9 years old

Chūnin Prom. Age

14

Jonin Prom. Age

19
Lisanna Ikaruga is a member of the Seven Ninja Swordsman of the Mist and the wielder of one of the next generation of blades unique to the Seven Swordsman named Kumori Jokyoku (曇序曲, Cloudy Overture). A Jōnin-ranked Shinobi of Kirigakure and also a missing-nin who defected, along with a few others, during the events of the Fourth Shinobi World War. A dangerous and skilled Kunoichi, known throught the land as The Mistress Of Blades.
Appearance
Lisanna is a well-endowed female with long,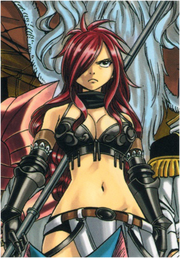 flowing, wavy red hair with an elegant, loosely tied knot at the back that reaches to the small of her back. Lisanna is donned in a very provocative attire comprising of a revealing, halter-type armor breastplate top that leaves much of her breasts, cleavage and stomach exposed, with light-armored gauntlets and greaves on her forearms and forelegs, respectively, as well as her thighs. She also wears a dark biniki bottom with a piece of cloth obscuring her hips. A dark scarf can also be seen wound around her neck.
Personality
Lisanna has a violent nature, as she gets excited over the idea of slicing people to bits. Since she believes her own sword is the strongest, and would not hesitate to attack those who disagree with her on that, be it ally or enemy. Lisanna is sadistic, cruel, and would kill with a smile. Showing no sympathies towards her enemies and kills without mercy, she had been involved in killing many members of Konahagakure, thus earning the title Mistress Of Blades. She seems to take great pride of this title bestowed upon her. Upon receiving this title, this led to her becoming more hostile than she already was towards young shinobi.
Lisanna also appears to value her pride as one of Seven Ninja Swordsmen Of The Mist; as she cuts down anyone who tries to talk badly about them. However her streak of fighting has made her overly arrogant and she doesn't seem to take losing lightly.
Synopsis
Abilities
Kumori Jokyoku
is the name of Lisanna's Sword, it is unique as it takes the form of several small longswords that have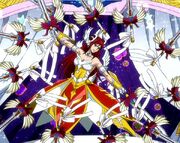 several holes on their hilts. The blades all rotate around her center of gravity by tuning with her chakra signature. The special ability of her blade revolves around taking in air through the assorment of holes and using the oxygen to repair the blades, allowing Lisanna to fight for long periods of time.
Ad blocker interference detected!
Wikia is a free-to-use site that makes money from advertising. We have a modified experience for viewers using ad blockers

Wikia is not accessible if you've made further modifications. Remove the custom ad blocker rule(s) and the page will load as expected.