Home
Talk

35
18,644pages on
this wiki
With Respects to Narutopedia!
Across this wiki, there's a large number of articles, primarily in regards to jutsu, techniques and tailed beasts which are taken from our mother wiki, Narutopedia. All credit is reserved for the users of Narutopedia who created these articles in the first place, and its greatly encouraged that any new such creation be properly attributed to its actual source. This can be done in the Trivia section of the given article.
About Us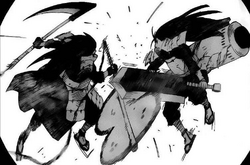 The Naruto Fanon Wiki, founded in 2009 by User:Blackemo1 and User:LaviBookman, is a wiki of fan-invention based in the Naruto universe. Here, we allow users to create their own fan fiction stories, characters, jutsu, etc., as well as allowing them to collaborate together in what is known as a roleplay; where fan fiction writers can write stories together, pit characters against each other in fights, and even do comedy skits. Users are also encouraged to get to know each other, make friends, and communicate with each other via the Message Walls provided by Wikia to promote a friendly writing environment, as well as allowing them to collect feedback for their works. Our goal is constant improvement in quality to become the best Naruto fansite on the internet!
Popular Arcs
Taiga's Forgotten Arc
Taiga's Forgotten Arc is an on-going, roleplaying-styled, story arc that is being written and told by User:Prodigy1322 and User:Dragonlord45.
Naruto-The Bridge to Peace Arc
The anticipation is mounting as the preparations for the site-wide shinobi world war arc, Naruto-The Bridge to Peace!
Getting Involved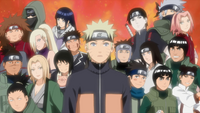 Finding a way to get involved on the site is quite simple. There a vast array of activities going on everyday here at the Naruto Fanon Wiki. For instance, members can join the Policy & Standards Committee, an arm of the administration that is styled after the operational structure of the canon Gokage. Additionally, you could ask around for the active users, who are often more than happy to help you with your stories and characters. Talk to fellow users and try to get involved in some of the ongoing story arcs.
Featured Character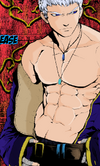 Fuyuki (冬樹, "Snowy winter"), more commonly known as the Sixth Mizukage (六代目水影, Rokudaime Mizukage) and feared across nations as Fuyuki of the Crimson Waves. Is the current Mizukage of Kirigakure; suceeding Mei Terumi. Formerly a Bandit leader, he rose in the ranks and eventually became a Kage by taking advantage of the chaos that followed in the wake of the Fourth Great Shinobi War. Determined, immoveable and ruthless - Fuyuki believes in the philosophy of doing right by wrong, and strives to lead the Village Hidden in the Mist to supremacy by making use of military might to force neighbouring villages to surrender.
Forms
Forms are an essential part of the creating process here on Naruto Fanon Wiki. These forms are REQUIRED to be used, as stated in the sites Manual of Style, but they also add a high level of professionalism to your pages.
About

Naruto
Naruto is one of the most popular anime/manga series in the world, having sold more than 72 million copies in Japan alone.
There have been numerous popularity polls conducted, namely character polls, and these polls have produced remarkably high ratings, indicating high popularity among both Japanese and American readers.
Naruto received the Quill Award in 2006.
Naruto was created by Masashi Kishimoto in August 1997 after the first Naruto one shot was released; it was later serialized in the year 1999 in weekly Shonen Jump.
Links
Poll
Who would win in a fight?