Welcome to the Wiki!

Welcome to the Naruto Fanon Wiki!
We are currently editing over 30,310 articles since 2009.


This a wiki of fan-invention. Fans of the series are free to create their OC's, their own storyline(s), etc.
About Us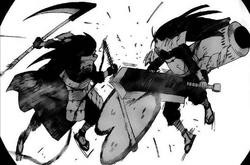 The Naruto Fanon Wiki, founded in 2009 by LaviBookman, is a wiki of fan-invention based in the Naruto universe. Here, we allow users to create their own fan fiction stories, characters, jutsu, etc., as well as allowing them to collaborate together in what is known as a roleplay; where fan fiction writers can write stories together, pit characters against each other in fights, and even do comedy skits. Users are also encouraged to get to know each other, make friends, and communicate with each other via the Message Walls provided by Wikia to promote a friendly writing environment, as well as allowing them to collect feedback for their works. Our goal is constant improvement in quality to become the best Naruto fansite on the internet!
Featured Article
Kaname Soga (蘇我要, Soga Kaname) is a ninja born into the splinter Soga Clan of Shiogakure and is one of the clans last surviving members. He is known as the illegitimate heir to the clan, via is father Koma Soga. In his youth, he was a member of a team known as Jager, having the title Silent Hunter (静粛狩人, Seishuku Karyūdo), he later became the leader of the team. Upon gaining his brothers eyes, he become known as Kaname the Blazing Arctic (蘇我要北極圏炎天, Kaname no Enten Hokkyokuken), due to his use of the Blaze Release and the Arctic Release. As time passed on, Kaname was labeled an S-rank ninja and gained the status as a sage.

Several years later he formed the Kakuzensho with their help along with his wife Takeko Nakano, and is one of its council members. Later he earned the titles Sage of the Blazing Arctic (仙人の北極圏炎天 Sennin no Enten Hokkyokuken), due to his use of sage mode along with his unique natures, Sage of Nature (仙人の自然, Sennin no Shizen) due to his use of Natural Energy. Upon awakening the power of the Sage, he gained the title Six Paths of Nature (六道自然, Rikudō Shinzen).



Feel Free to Create A Page!
To create a new article, simply enter the article title in the box below:
Or are you in search for the Forms that are used here?
Forms Giving Trouble?
Trouble getting started?
Announcements
Here the Administration Team will announce the updates or publish news related to the Wiki.
June 18, 2015 — Theme Design and the homepage has been changed.
July 8, 2015 — Naruto Fanon is currently under maintenance.
Poll
What is your favorite Naruto villain?
Recent Blog Posts