This article, Niku Taberuhito, is property of RazeOfLight.
Niku Taberuhito
Birthdate
August 2
Age

41

Height

6'6"

Weight

126 lbs

Gender
Male
Species

Human

Blood type

B-

Partner
Previous partner(s)

N/A

Affiliation
None
Previous affiliation(s)

Kirigakure

Team
Previous team(s)

N/A

Occupation

Missing-nin

Previous occupation(s)

Jonin

Homeworld

Earth

Home country
Land Of Water
Hometown
Kirigakure
Highest rank

Jonin

Classification

Ninja

Academy Grad. Age

7 years old

Chūnin Prom. Age

10

Jonin Prom. Age

15
Niku Taberuhito (肉食べる人, Flesh Eater)
Appearance
Niku is a tall and lean man with a short beard and sideburns that point upwards. He wears black and red ornate clothing with a crucifix pendant that hides a little dagger, which gives him the appearance of a Spanish swordsman.
His attire consists of a wide-brimmed black hat decorated with a large plume, and a long, open black coat with no shirt underneath, with red, flower-patterned sleeves and collar. He wears white pants held up by a decorated belt and tucked inside overly large boots in comparison to his leg size.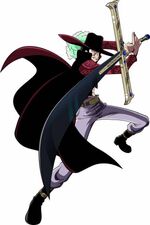 His large sword,
Karainochi Taberu, 
which he keeps on his back at times when not in use, has a curved black blade, and is also in the shape of a crucifix, with a golden handguard decorated by red beads (which are blue and green in the anime), and an hilt wrapped in bandages, with a particularly big bead at his extremity.
Personality
Niku is possibly one of the most serious people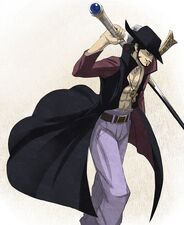 around; very little seems to surprise him, and he rarely smiles. He displays a sense of honor which other members of the Seven Ninja Swordsmen, seem to lack. Taberuhito is selective when it comes to fulfilling his duties as one of the Seven Ninja Swordsman, as evidenced by his decision to hunt and harass some shinobi over others.
Though he is the swordsman above most swordsmen, Mihawk remains grounded. While he has obviously become jaded regarding the abilities of other swordsmen, he's able to recognize talent. He also shows some curiosity for the people he decides to attack. He attempted to strike the former Kage of his village just to see what the power distance between himself and the rest of the village was.
Background
Plot
Abilities
Ad blocker interference detected!
Wikia is a free-to-use site that makes money from advertising. We have a modified experience for viewers using ad blockers

Wikia is not accessible if you've made further modifications. Remove the custom ad blocker rule(s) and the page will load as expected.