Odayakana Nami
Talk

0
18,631pages on
this wiki
"What must I do, to gain honor? To gain redemption? To gain a cure for my beloved sister? Every day, I look back to what I caused. I don't know what to do anymore. I have lost, and I have no more ideas to how I can win... I need guidance. "
— Odayakana Nami - To Asura
Odayakana Nami

Gentle Waves穏やかな波The Projector

Greed's Daughter

Kunoichi of Songs

Birthdate

October 2nd

Age

22

Height

5' 10

Weight

137lbs

Gender

Female

Species

Human

Blood type

O+

Homeworld

Earth

Home country
Hometown

Kumogakure

Partner
Previous partner(s)

None

Affiliation

Family/Friends

Previous affiliation(s)

Team

None

Previous team(s)

Team 33

Occupation
Previous occupation(s)

ANBU - Recon Division

Highest rank
Classification

Missing-Nin




Ring

白 (bya, "white")

Ring position

Right Middle Finger




Ninja Registration

829339

Academy Grad. Age

10

Chūnin Prom. Age

12

Jōnin Prom. Age

17

Hiden Jutsu

Weapons

Kunai

Shuriken

Ninja Wire
Odayakana Nami (lit, Japanease for Gentle Waves, 穏やかな波) was a member of the Akatsuki, a crimanl orginization lead by Koi Shūrai, she is the designated partner of Ryu Uchiha. Her personal goal in joining the Akatsuki, is to Guide Others and help aim them to a better future, this is countered by her true reasoning, which is for return of a favor in the near future. She was recruited into the Akatsuki by Asura and Ryu, to which she came along willingly to gain aid from them in the future to successfully find a cure for her sister.
She is known by her two titles, Defender of The Akatsuki, ('Purotekutā no Akatsuki, プロテクターの暁) for her defensive combat stylings, and bonds to her two comrades that iniatiated her into the group. As well as her previous title, Sister-In-Arms, (Shimai no āmu, 姉妹のアーム) for the fact that she was loyal, and skilled as a Kunoichi in battle along side her fellow Kumogakure comrades.
After the events of the Akatsuki, Odayakana took her life with her sister, living it with her friends, rather then wasting it away on further missions.
Appearance
Odayakana's body is that of a beautiful and toned kunoichi, creamy white skin glimmering in the sun. Her long spiky brown hair pulled back into a pony-tail, an ivory cloth wrapped around the hair-band. Her eyes are different colored, a side effect from Hetrochromia, her right eye being a normal brown, her left eye being a dulled sea-blue. A mask is tugged over her nose, and below her ears, a dark black the color, covering the lower half of her face. Her clothing consists of her new version of a different The upper part of the long robe, is black, with a red line coming up the top. The lower half is connected by snap-buttons, colors of red cover it, with inverted black and white clouds. White shawl extensions drop down the waist and knees, drooping to her ankles. Dark pants cover her legs, with basic shinobi style sandals, that reach up to her calves, red overlay near the toes. Her finger-nails are laced in a copper-golden finger-nail polish. The Kanji of the word 'Angel', 天使, is tattooed unto her abdnomen, slightly above her naval. Odayakana sports a smooth scar over her right eye, going up the inward bend of the corner of it.
Personality
Odayakana has a very strong personality, relaying on being calm and reserved, speaking when spoken to, putting input in if she deems that it be important, and a major part of the discussion. She has shown to be quite serious when it comes to being friends, allies, or enemies, never showing much humor for multiple reasons, her main one being that she deems entertainment and humor only slow down her goals. Calmness in Odayakana is easily shown, in combat and such, never giving a note that she is stressed. If the situation grows dire, or she is close to defeat, Odayakana will show fear and surprise, hoping and pondering whether she could have done better. This derives from her relationship with her sister. Due to events, her sister was harmed greatly, losing her sight, and the ability for her chakra to function, she blamed herself for the horrid act. Looking to the Akatsuki as a way to obtain this cure, she left, in hopes to save her sister, and gain personal power.
In combat, Odayakana is very successful in co-op attacks, utilizing her strengths and set of unique Barrier Releases, to heighten her ally and herself to stronger levels. Proving a formidable opponent in a pair or groups, her defensive skills have shown to be threatening, and unique, preventing her enemies from harming her allies. Her way and styling of battle is to simply ware out her opponent, finding out that letting them drain themselves of their own chakra and energy, the best approach.
Her relationship with her fellow Akatsuki members has shown to be polite, showing respect to her other S-Rank missing-nin. Ryu seems to have gotten to know Odayakana best so far, talking and conversing leading them to knowing eachother better. Showing a dry sense of humor around him, and picking on his sorrowful expressions, she finds some amusement in this, but it conflicts with her other traits of being quiet, so her humor is usually short-lived and for a moment. Asura, another member of the Akatsuku, showing admiration to her, reminding Odayakana of her own sister, due to her rash, strong commanding nature, and skill in combat, has given Odayakana a sense of honor towards Asura as a fellow Akatsuki and sister-in-arms. Slight distaste for being told what to do by the leader of the group, as she dealt with similiar issues during her time as an ANBU. In secret, it seems that Nami has found a liking to Bakuha Hakoda, a fellow Akatsuki member. Despite her liking, she has chosen to keep the relationship a secret from the others, the two are currently in a relationship.
Odayakana had a very warm and kind bond with her sister, each of them enjoying eachother's time, both rough-housing, talking, and training together. Bonding together lead to them working well together, Odayakana forming her defensive style of combat due to her sister taking offensive stylings. During their time as ANBU, they worked hard to keep eachother alive, a luck filled life had sported them both, but due to events that Odayakana had caused herself, she continued to blaming herself for her sisters blinding and chakra damage, this was true, it was partially for her fault. After a year of no results, Odayakana formed a strong will to not let them be trampled on anymore, to work their way up to a higher status, but first, she must help find her sister a cure. A strong-will of resolve formulated in the last two years in the ANBU, and Akatsuki.
History
During her child hood, she and her sister were close together, both 1 years apart in age. They were shown to have exceptional reflexes as they grew older, instinct taking play, they both learned quickly, and became very adaptable. As they both grew up together, they grew close, a bond forming, Odayakana and her sister accelled through classes, making it to the rank of genin quickly they both learned to make it through the harsh world. She and her sister would become strong, and bonded quickly, they would make it far in this Shinobi world. The Chunni Exams soon came along, and they both surpassed people's expectations, trying even harder then before. After reaching the age of 12, she became a Chunnin, soon followed by her sister, when she was the age of 12. As they both came to and fro from their ranks, they were both taken into ANBU.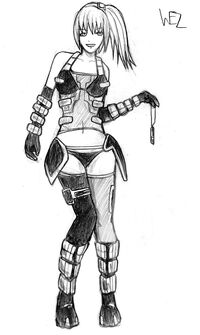 The years of Jonin before being iniated into ANBU, they were taken into several terrifying missions, to prove their strength and loyalty to Kumogakure. As these years went by, she heard of a woman,
Yasuraka Kodomo
, who was in fact, the Jinchuriki Host of the Eight-Tailed Ox-Octopus. She had heard of the killing power and beastial might of this Host, having caused destruction and chaos. Admiring the power of the beast itself, having heard of the once mighty Killer Bee, she could only see how this young woman dealt with her 'curse' in as best as she could. Pity was more so felt, as she believed the woman could have been so much, she could have lived the life of a Kunoichi, lived a productive life. But due to events rolled through her presence, she knew that this was improbable. Her strength and skill with living her life, would push Odayakana forward, hoping to get stronger, as to not make the same mistake. Also, one day, she hoped to meet Yasuraka Kodomo on friendly grounds, and even one day wished to fight this Jinchuriki Host. And one day... she would. Odayakana would meet Yasuraka on the outskirts of The Land of Lightning, they would talk, discuss... in effect, Odayakana would meet her 'idol' of sorts, and hopefully, they would remain friends afterwards...but one day...
In a fateful event, Odayakana's sister and her, were placed on a mission together, to succeed in retrieving a forbidden scroll from an opposing village, Kirigakure. Upon retrieval, all went smoothly, and nothing arose to hinder them too much. But, an opposing Ninja, caught them in the act of leaving with it, and attempted to stop them both. In a short swift battle, Odayakana's sister was injured badly, her eyes damaged too far, and her chakra malformed by the opposing ninja's technique. To stop the destruction of her own sister's chakra, she had to take desperate measures, asking for aid from the ANBU, they deemed them both a failure to the village, due to being nearly caught, and offered no aid to either of them. And her sister now handicapped with blindness. Cure after possible cure was not found... Odayakana needed aid. And one day, Asura, along with Ryu, would be her 'saviour' in a manner. They would invite her, Asura taking the lead in the invitation for Odaykana to join the Akatsuki, at first, she showed hinderance, resisting, and proving a small fight, but the mention of a possible cure from the opposing woman, proved enoguh to entice her to join. She was eventually partnered with Ryu Uchiha.
Odayakana Nami would blame herself, but the day that they stole the scroll, she read the contents, in it, was the incredible powers of the Barrier Release, a wonderous set of abilities, forbidden for their drawbacks and true nature, she didn't care, they would aid her, and the ANBU and Kumogakure would never know otherwise, she left the village, taking the title of nuke-nin with her, hoping to gain her cure from the Akatsuki, she would need their help, because her sister, had none other to...
Abilities
Elemental Release
As she went through the classes, Odayakana quickly reliased she had an affinity with lightning releases, using them for deadly strikes and powerful techniques, amplifying her own defenses alongside them. Her Water release, comes from her natural ability to use it in jutsus, and to use it for shields, prisons, pressuing the water in the air to focus around a person's blood flowing artery, a deadly feat. Despite the nature of Lightning being offensive in terms of combat, Odayakana, being a defensive player, will create and use defensive stylings. Restraints, prisons, locks, armor, or barriers of lightning will be created with the aid of her ANBU training and Barrier Releases, she rarely let's the opponent think, making sure to keep their mind on the prospect of escaping her techniques. Giving her, or her partner an opportunity to attack or devise a plan.
Ninjutsu
Odayakana's skill in Ninjutsu is high, showing excellent training in these fields, even the ANBU technique of Temporary Paralysis Technique, and the Dead Soul Technique, her other multiple uses of Ninjutsu, have lead to her being a versatile opponent. During the training of the years as a Kumo-nin, Odayakana struggled hard to perfect her many jutsus, using them to keep her foe off balance, more focused on subtle intent, and conjoined assault, rather then mindless bruteish combat, focused only on defeating the opponent at any cost.
Taijutsu
With her strength in Jutsus, and training in defensive and offensive arts, Odayakana has shown weakness in the field of hand-to-hand combat forms, showing a hinderance in battle, she prefers her allies to be offensive, while she supports. This helps to counter-balance her partner, Ryu Uchiha. Lacking the physical prowess of her partner, weakness in this field was shown directly in her fight against the Kiri-nin that nearly killed her sister and gave the scar to Odayakana, in the fight, she lacked the offensive abilities in hand-to-hand combat to knock him off balance.
Genjutsu
Her training in Genjutsu is strong, but primarily uses it for defensive purposes. During her time as an ANBU, a experimental seal was created, and placed unto the user's body, amplifying their resistance to Genjutsu, allowing easier combat against more cunning foes, this may be placed on the body anywhere, and may come in any physical form. As her Genjutsu retardent seal is the Kanji of Angel on her stomach. Proving incredible feats in defending against Genjutsu, she has also learned to manipulate illusions in decisive manners, to artificially create fields and barriers of chakra in the enemies mind to make the land scape and area more realistic and hard to differentiate between reality. This strong genjutsu classifies under Demonic Illusions, or her own personal ones, the art of Oni Genjutsu.
Weaponry
Featuring shuriken, kunai, and ninja wire as most do, Odayakana keeps her supply of weaponry for harsh and unpredictable situations. Her ammo supply of these weapons is average, a hidden pouch high on her thigh, and three kunai hidden on her left arm. She was exceptionally keen with weaponry in her years as an ANBU.
Barrier Release
By manipulating her chakra, she may create fields, walls, barriers, domes of chakra to protect against many an attack, venturing to even deflecting S-Rank attacks, at the cost of draining her own chakra by a percentage of the damage it would have dealt. She may also use these defensive capabilities to an offensive field, manipulating it to where a dome would spin, and propel it at her enemy at threatening fields, or by adding her lightning chakra to a thin coating of the Barrier Release unto her body, adding an electrical suit of armor. Another offensive field she may use this to, is to place tiny and near microscopic walls into the enemies organs, veins, or whereever the area most deadly or hindering would appear. (EX: Placing a wall of chakra, to cut off circulation, or to cut off blood-flow.)
Instinctive Combatant
At a young age, Odayakana showed a high skill in preseptive combat, showing to be able to cooperate with allies easily, and giving them aid in the best situations. She will come to someone's aid quickly if called upon, and will take drastic blows to prevent group wide damage, albeit, she will take her own opinion on ways to fight if given the chance, and will allow some damage, if she knows she can twist the situation into something more formidable to her own liking.
Overall Stats
Relationships
Sister: Odayakana showed great warmth and kindness to her younger sister. As they grew up together, and both were Kunoichi's, they began their long trek through the ninja ranks, and as they did, their coordination and strength together grew, instincts guiding them in all things. Becoming stronger, also had it's cost, when the time came, and they were ANBU, her sister lost her sight, and her wells of chakra, now nearly destroyed beyond repair, she would never be able to function on her own. And it also was the result of the scar on her own eye. This guilt and self-blame would lead her to learning the Barrier Techniques, forbidden. She hid the information of these secrets, then, finding yet no cure, she joined the Akatsuki. It is said that Asura strongly reminds Odayakana of her own sister.
Ryu Uchiha: Under Construction...
Asura: Under Construction...
Bakuha Hakoda: The relationship started off as a simple recruitment mission, her and Ryu sent to take him down, and retrieve him. The two quickly made it off, and found a liking to eachother, calling eachother each their own nick-name. In secret, Bakuha and Nami have been in a intimate relationship, having chosen to hide it from the rest of the Akatsuki members, glad to have someone who feels this way about her. Despite the love felt, Nami is constantly nervous about the topic, if it does arise, and has on numerous occasion felt guilty about it towards her two friends, Asura and Ryu.
Quotes
"Please, dear sister, I am leaving, for one reason, to bring you aid, to bring us aid, we've suffered for too long... you've suffered too long."
"I've been told many things, do this, kill him, go there, be here at a certain time. I will now guide others, not the other way around."
"I joined the Akatsuki for one sole reason, to gain what I want, not what they want. I am a conduit for a means to an end."
"I will begin my journey to aiding my beloved sister, I have some time, but my goals must be completed, there is no other choice."
"My name is Odayakana, a pleasure to meet you." (To Ryu Uchiha)
Trivia
Odayakana has Hertochromia, the different coloration of the iris'.
Odayakana's favorite foods are: Oranges, Mangos, and Vanilla. Her least favorite being, Potatoes, and Salads.
Odayakana's hobbies include: Writing down her thoughts into her journal, and bathing in hot-springs.

Odayakana loves: Relaxing, winning fights, and spending time with friends.
Odayakana hates: Constant loud noises, being alone, or awkard social situations.
Odayakana's theme is River Below, by Billy Talent.

Odayakana has completed 700 Official Missions, 300 D-Rank, 150 C-Rank, 100 B-Rank, 130 A-Rank, 20 S-Rank.
Odayakana is Sociophobic: The fear of awkard social situations.
Odayakana wishes to fight three people, these being: Asura, Yasuraka Kodomo, and Ryu Uchiha.

Her favorite words are: "aid" (援助, Enjo) and "scared" (おびえた, Obieta).
Nami is my favorite antagonist thus far.