Raido X
Talk

0
18,646pages on
this wiki
""Alas, my children, this is the day you shall always remember as the day you almost captured...Captain Jack Sparrow."."


This article Raido X, is the property of SixPaths. No user is allowed to edit or interfere in any way with the content in the page unless specifically permitted by the owner.
editRaido X

Raido Uchiha (写輪眼, Sharingans Pride)

Dansu no sentō-ki( Dancing Fighter)
Dākusureiyā( Dark Slayer)

Debut

Appears in

Anime, Manga, Game and Movie

Voice Actors

English

Neil Kaplan

Personal

Birthdate

February 16

Gender

Male

Age
Height
Weight
Blood type

AB

Kekkei Genkai

Rinnegan

Classification
Occupation

Freelance

Affiliation

Yamagakure

Team
Clan

Uchiha Clan

Rank

Ninja Rank
Ninja Registration

001297

Academy Grad. Age

9

Chūnin Prom. Age

12
"See thats the problem with the world today to many copies not enough originals. Look around these days we have nothing but ninja who don't know who they are. We got ninja running around looking to be the next Sage of the Six Paths, guys who wanna be the next Madara Uchiha, Orochimaru the list goes on, but me I wanna be Raido X thats it. I dont wanna be the next anyone, why be the copy or rebirth of a story already told when I can make my own. Im here to make my own name not live under someone else. I couldnt care less about them, I'm here for me and my contributions to the shinobi world, and to have one have one helluva time doing it. Raido X to Fa' rao"

.
Raido X (ライド・X, Raido Ekusu) Formerly know as Raido Uchiha, and one of the few survivors of the Uchiha Clan. He however in time dropped his surname of Uchiha and began calling himself Raido X. He is infamously known for his prowess as a ninja and for his quick wit. He travels with Yama his spirit guides while the two travel the shinobi world and uncover secrets that have been hidden away from the world. While dealing with a self proclaimed God.
Background
Although Raido was suppose slated born in
Yamagakure
he instead was born in Konoha. He had a decent childhood, as his brother and parents shared a regular relationship among each other. However as fate would have it turn out due to the series of missions asked of them Raido parents were often gone and away, leaving
Takenshi Uchiha
to look after a young Raido and raise him mostly. Raido's relationship with his parents was abnormal, he often went to his brother more than he did his parents for guidance which strained the relationship between the two. In time things began to improve as his parent retired for their obligations as a shinobi, and spent more time training their kids and raising them. Sadly this would be short lived as they were called to arms when the Nine-Tails attacked the village, their bodies were enver found and nonetheless were mentions as KIA/MIA in the wake of the disaster. From their Takenshi became the sole guardian of the Raido and assisted in his upbringing. As time elapsed he undertook missions and made a small name for himself due to his success on missions, until an uprising of a group in Yamagakure. This uprising proved to be a savior in grace as his capture and extended stay in prison allowed to not be present during the Uchiha clan massacre. It was clear this group was looking to obtain a sharingan and Raido just became their new supplier however this was foiled, as he was rescued by his brother Takenshi as Raido's team was captured. This was used a leverage to capture him as well, from there he went on to save his team and complete the mission. When they returned to the village 2-3 weeks weeks later, to their dismay they found that the entire clan was Slaughtered when they returned. Due to the fact that both Raido and Takenshi at the time did not wear Uchiha clan clothing or symbols they were not thought of as Uchiha clan survivors but rather standard shinobi who returned back to the village. It was explained to them the clan was slayed overnight, with no reasons to stay in konoha and the fear the one who committed this genocide might return Raido left for
Yamagakure
while Takenshi disappeared leaving no traces of his whereabouts.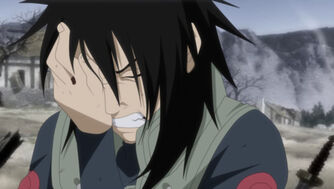 Years later they would meet both suffering from the curse of the Mangekyo Sharingan and fought in a last brother standing match to which Raido won, thanks to his bringing of
Kohana Uzumaki
who was able to treat his fatal wounds saving his life and later transplanting his brother eyes. After this Time Raido took on a series of mission and adventures that introduced him to people across the world to some of the greatest and legendary of ninja such as
Takeko Nakano
,
Miyuki Murakami
,
Sannoto Senju
,
Yasuki Hatake
Kaname Soga
and even a distance relative
Yoshitsune Uchiha
, he did battle with other hall of which he fought and did battle with. however his adventures were brought to a halt when he was defeated by
Tsuki no Ai
and sealed away by
Terrax
who possessed abilities Raido never encountered. He was imprisoned for 7 years stripped of his memories and certain abilities. In his time encased he was placed in a cyrostasis sleep to which his body did not age. He was imprisoned the entire time of the Fourth Great Shinobi War. He was released by Terrax and Raizo due to his vast set of skills and was given anew Identity, form there he was introduced to Shurado who taught him the Freezing Release in order to strengthen Raido who was severely under powered in those 7 years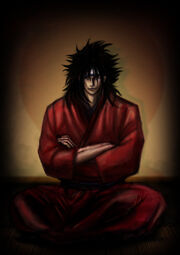 . Since then he continued to obtain and gain his old power and more in order to have his final showdown with the self-proclaimed god.
Personality
Raido X has always been a difficult person to discern and despite the fact he doesn't express interest in reviving his clan he has great loyalty to them as a whole. He is incredibly Flippant as he mouths of to the baddest and most powerful of shinobi. Always looking to slide in a witty comeback or remark to his opponents, and will not hesitate to make condescending remakr to his target. Making them charge into battle with no plan. When not in battle he is a cool calm and collected man with a cooler than ice persona. He is known for his neutral lifestyle as most times he is willing to Look the other way if a situation doesn't affect him directly, But when it does he rises to the challenge. He will not go out of his way to hurt someone. He has stated many times he doesn't care for the Will of Fire or the Curse of Hatred, as he has created his own ideals to life rather than live by the one's set by others. On the rare occasion he was angered he can be very Cold as seen when he ruthless attacked the shinobi of Otogakure and destroyed the village down to the last brick regardless of the populace, giving no second thought of their survival. He is very knowledgeable and when not training or traveling he always stops to read to learn info and anything that can be used in battle including tactics, animals and other ways to use jutsu.
He was blessed with the gift of gab and is extremely clever as seen he can easily coax people into situations as well as talk himself out of the most complicated of conversations, he himself even said he could can read a ninja handbook and make it sound good.After a few months after his revival and removing his surname he has shown to enjoy life alot more, or as he calls it enjoying the finer and smaller things in life, he however maintains his lust for combat, and fighting. he retained his lack of seriousness unless left with no choice. He also will not fight a target that can not fight back or defend themselves as he calls it dishonorable to pick on those who cant fight. He often states that killing his not his style but if left with out a choice he will brutally slaughter without slightest sense of remorse nor guilt , as seen when Kohana was attacked as he laid waste to nearly all of Otogakure.
Despite his mostly neutral disposition he is very loving and caring always looking for the next good time, which often comes at the price of his enemies. He does however keep his word when he gives it as seen during his battle with Sannoto Senju where he agreed to rebuild the destroyed Uzumaki village as a treaty between the Surviving Uchiha Clan members and the present Senju clan hoping to snuff out and bury the old bad blood in hopes of rewriting the future of both clans showing that Raido is despite all his neutral qualities a man of honor. He still retains his flippant Attitude but much more toned down from his prior lifestyle. He never answers questions directly he instead, talks around them using his gifted power of verbiage to hint the illusion he answered a question he has shown in gathering information as he learned in conversation people inadvertently give out more info than they needed to but don't realize it, something that has made Raido an expert tracker. He has been known to never fight serious or with killing intent, something that most say hampers his abilities as he could be so much stronger if he was ever serious. which angers his opponents as they feel as though he treat them and their abilities as a joke when Raido just simply enjoys the moments in good fights. Due to the brutal nature that uchiha are known by most to do associate Raido with being an Uchiha clan member(besides the crest on his jacket), this mostly stems from his name which he dropped the Uchiha surname in favor of X. Raido similar to his brother is prone to random appearances, and disapperances. often being gone from anywhere to a few weeks to months,without word or warning. He often fabricates and undermines his time off, by saying nothing or literally talking in circles to avoid giving an answer.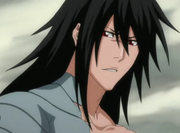 Appearance
Raido has been quoted by both his master and friends as being a physical specimen , standing at about 192.5 cm(6ft 4 inches) 220lbs. He Towers over most of his peers and enemies. As put by Kohana Uzumaki and laster Yuna, he has the physique women love in an ideal man . He has a strong jawline and face which makes him very pleasing to the eye as women from across the lands he traveled he stated there's not one place he's went where women did not love or marvel at him. During the End of an era series his hair becomes waist-length. Under his usual outfit he wears Light bluish-gray bandages on his body, tightly wrapped around his torso, right arm, and sometimes his face, ending just beneath his eyes In the past Raido Dressed similar to Madara Uchiha but without the armor over his chest just a standard Uchiha robe which did not have Uchiha Clan symbols on them, he wore his hair the same as Madara did for a time but eventually cut it slightly to have his own image which now shows more a relation to his ancestor Izuna Uchiha. After dropping his surname Raido X changed his appearance greatly slightly tying his hair wearing a custom made blue High collared coat Uchiha Clan symbol on the right side in between 2 crescent moons showing Yin-and Yang. This coat is long on one side short on the other. He wear pair of finger less gloves on both hands but has a long sleeve on his right arm, as well as his right ankle taped. He also carries his Yorukaze on his back when not used in battle. As of late within the End of an Series and so on Raido now wears prayer beads around his neck, with a visible black Ten (天, ten, "heaven") kanji on the center bead, which is usually not visible until Raido is molding chakra. It is unknown the current function of the beads other than that of paraphernalia of his recent exploits. He discovered these beads in the Naka Shrine, to which they were hidden from the eyesight of the Sharingan. It stated only he who has taken the path of enlightenment can read and find the contents of this message and find this sacred treasure.
Abilities
Due to the constant flux of his abilities, Raido has been hard to measure by the standards of power. However he hasm maintained his image as being one of the greatest adaptive fighters in the known world. While he often credits others being stronger than him he in fact is at the top of the shinobi world in terms of combat and battle tactics. His Chakra level is high on its own prior to his implanting Uzuamki DNA within himself. His vitality,and stamina have skyrocketed, and seen immense changes within his quantity and quality of chakra. He has his ability to use powerful techniques and get the most out of his chakra, and not waste or over exert it. His versatility in combat and ability to turn any situation into his favor has made him a very sought out man to fight as his battle skills have transcended him to the upper echelon of the Ninja world. His rise to fame originated from the fact he would fight without the use of dojutsu despite his possession of them. Due to his fanatic search and desperation to beat Fa' rao he began to study and chase the Rinnegan which ended in failure after failure until after months and years of a combination of him and Kohana. However in the end after a situation with Tensai Uzumaki, his mind was trapped within the Naraka Realm to which he could not leave without understanding the cycle of reincarnation. For a time his lack of seriousness was the anchor that held him back but evenutally he would become enlightened and unlock the secrets to Rinnegan. This new gain in power however caused him to lose his signature abilities in the Freezing Release and Ice Release. He gained access to the Yin principle to add to his Yang which greatly switched up his fighting style and gave him more variety of moves, he has so far shown great use in both mixing the two and individual moves. Though he usually is seen in powerhouse light Raido has a habit of using trickery, and deceitful tactics to allure a false concept of his fighting ability. Usually giving off the impression he uses power style move when he prefers a methodical aporach
Intelligence
Contrary to popular belief Raido relies more on intelligence, agility, and quick wit to protect himself, rather than his physical strength. Raido frequently outmaneuvered enemies with his words but when forced to fight he comes as an incredible opponent. For a time he even managed to dupe Fa' rao and make him think he had lost his memory a lot longer than he really had in order to gain more access to their trust. Raido also has developed a keen sense of trickery and deception often using that to outfox his opponents. The fact that Raido's demeanor is always joyful this often leads to the speculation that he is possibly far more skilled than he lets on to be. He is shrewd, calculating and intelligent using his complex wordplay and vocabulary to confuse his enemies. Using his gifted power of wordplay to hint the illusion he answered a question, he has shown in gathering information as he learned in conversation people inadvertently give out more than is needed actually helping more in Raido's favor than against it. Raido also shows his ability to improvise well on his feet. As seen in his battle with Sannoto where he intentionally weakened the platform knowing the Sannoto's main attack force used the ground to create itself which would slowly damage the structural platform slowly while he made sure it went down allowing Sannoto to freely use his iron moves at the risk of Raido's balance. In the end this plan paid off as it allowed him to gain victory over his long time hardy Foe. Not outsmarting him but adapting better to the situation around him.
Ninjutsu
Raido X use of Ninjutsu have varied over the years due to his learning capabilities, even without use of the Sharingan he can quickly configure a jutsu and learn it on its basic level being able to explain the mechanics of it after seeing it 2 times. He in turn mastered a Vast number of techniques, he is also proficient in several nature transformations, due to his possession of the Rinnegan. However his most dangerous affinity if the one he possesses in the Fire Release. A release Raido has practiced since he was a child, and even until now. Raido by kneading his enlightened new chakra into his stomach can create fires Fires that have been said reach up to temperatures of 3600 F (2000 C). Burning so intensely that it can actually split water into hydrogen and oxygen forcing the hydrogen and oxygen undergo combustion due to the excessive heat to form water again. His prowess with other Nature techniques is such that he can match specialists, but he hasn't been seen utilizing the others as much. He once wielded he Freezing and Ice Release to which he used to devastating effects in battle finding ways to even use its weakness to his strength. Giving him a slight advantage over Water and Wind users. He was a known Wielder of the Yang Release to create a unique pair of clone that gather chakra for him. and when they are defeated their gathered chakra goes to him. After Gaining the Rinnegan he lost his abilities in both the Freezing and Ice Release he gained the ability to wield the Yin-Yang abilities to which he has quickly become a well know user of being able to use the principle of both to create some clever techniques of his own.
Chakra Quality
Before Raido's chakra had a luke-warm feeling to it but a dominating feel none the less. Kohana stated once that its warm with area of grey which stemmed from his neutral style of living. However after his enlightenment and training with Yama his chakra signature changed immensely, not only getting stronger but becoming more pure as well. It was stated by Kohana and expert tracker on chakra that Raido' chakras still had its dominating feel, but now feels mysterious and mystic. Its not warm or cold, but it feels mystic. Which shows the details of which his chakra has changed, as even she could not get a proper read on his chakra. The quality has improved as his Yang Release as improved to where he can use Yang Chakra generated by the atmosphere itself to use a few of his techniques. When conjured up enough it can even invoke changes within the atmosphere, and enhance the ecosystem. Others who have sensed his chakra before, and sensed it really believe it to be a whole another person entirely. However they state that the quality of his chakra is like a breath of fresh air, and extremely different from the standard form of chakra.
Physical Prowess
After his enlightenment, Yama Trained Raido in the harsh unforgiving depths of the Naraka Realm to not only enhance his body but his mind as well. Raido X saw an immense gain his his physical attributes ,as witnessed in the End of an Era series. He developed accelerated speed and reflexes, enhanced agility, intensified endurance, and increased strength. His endurance has been heightened to the point that attempting to punch him or engage in hand-to hand combat would most likely result in fractured limbs on the part of the attacker if enough force isnt gathered. This is seen when a survivor from Otogakure Punched him, resulting to him grimacing and shaking the punching hand to alleviate the pain with no affect to Raido. Notable achievements of his superhuman speed, as he dodged thrown kunai and jutsu at point blank range. His speed is so advanced an intensified that he is capable of performing short dashes of speed faster than the human brain could process, appearing as if he teleported. Making him lethal at close range encounters, and allowing him to cover great distance in short to medium burst. Which is surprising for a man of his size, as Raido is not small man by any means of the imagination. Even before his enlightenment, and Naraka Realm training Raido's rigorous training from childhood-to manhood augmented with his bloodline's ties to the Uchiha. This has shaped him into a powerful warrior, physically conditioned his speed and acrobatic skills are beyond exceptional. His skills in hand to hand combat and weaponry are at the master level, particularly his combat skills. Due to his level of mastery, he is often seen using his weapons at their peak physical limit.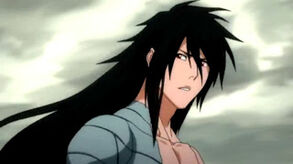 Capoeira
Since a being a young man living in Yamagakure Raido Uchiha was taught the Capoeira (Altered) style of fighting as a child and as he grew older this gives him the ability to fight using punches but quickly switch to kicking quickly.. This fighting style to those who have fought Raido claims its remiscent of a graceful dance. however its Raido Agility and immense strength that has made him so dangerous with the style that going up against other well known fighting styles and holding his own if not besting others. When his master died Raido promised to carry on the ways of this fighting style and its principles to the one who will become his student one day.
This fighting style is amplified by Raido Ability to shift or quickly warp Using the Siddha it allows Raido to attack forcifully with fluid motion to which has been described as poetry in motion which is why he has such great success in fighting large groups of people, and why he specializes in Taijutsu. He is a master practioner of this fightig stylu as he moves with us such grace that often times those watching are captivated by the simple acrobatics of the flips and kicks of cartwheels he dishes out. This is also the reason so those who fought Raido in taijutsu have often had hard times landing attacks on Raido as he always moving and evading that its hard to pinpoint his moves or center of gravity to strike him even.
Genjutsu
Raido X has stated his hatred of genjutsu many times, and therefore his lack of practice of it. Something that came off as unusual as he once possessed the sharingan the known eye of hypnotism. However it came to light that Raido never properly had training on how to cast genjutsu, and had to learn on hsi own. His disinterest in genjutsu made him alternately poor in casting them. Raido's strong point in genjutsu is that he excels in reversing them on his opponents and locking them it. Which include reversing the pain back to the user and one that even can only work once you set up a link between you and him to control his chakra which then locks you in the genjutsu to which it near impossible to escape. He always shows disgust when using a Genjutsu as to him it takes away the true thrill of a fight and would rather not play mind games. In the depths of the Naraka Realm, due to the effect it can have on ones mental state, Yama has taught Raido and in time he developed the Benediction of Avidya which has become Raido's trademark genjutsu, with those who attempt to use Genjutsu one him. As once the opponent is has successfully trapped Raido in a genjutsu, he can share a link which would expose the enemies mind to the horrors and experience the depths of the Naraka Realm which is not severed in time can cause the opponent to go into a vegetative state, or mental trauma. Thsi makes up for For Raido inability to cast a genjutsu, but rather allows him to take a hold of one created and amplify it and alter it to his choosing.
Dark Slayer
Raido X makes use of a style he calls the Dark Slayer which allows him to use his speeds and Space time abilities to cut his enemies at blinding speeds in two different dimension ensuring it hits its target the blade is so fast that most time the blade is never actually seen unsheathed but only resheathed at which someone life has already been taken HE is extremely dangerous as with his expertise of the Siddha he can hide the blade and swing it at an opponent and they never even know they were cut till he sheaths the Yorukaze. He also wields the Reapers Edge which allows him a whole different set of Abilities. Allowing him to imbue this ethereal blade with any nature transformation he can wield provided he has that nature. In his recent training with Yama his sword play and even his sword have seen an immense change. His Dark Slayer style has become lethal to the point that no one has survived an encounter with him employing it in battle. Due to the blood this style demands he has promised to save this style for his most hated and heinous of enemies.
Fuinjutsu
In the past Raido didn't have much experience with Sealing Ninjutsu outside of what Kohana taught him however in the upcoming few months he began to tinker and toy around with a few Seals of his own all of which range from lethal to life threatening effects on his targets. He knows seals that can remove a persons Kekkei Genkai from them sealing them of from it, and even seals that can sever ones Natura Transformations away from their chakra completing stopping them from using nature based Techniques with the only way to undo the seal is For Raido to undo it. His quick mastery over seals shows how quickly he can access a jutsu and break it down only seeing it for either a short period of time or once or twice.
Sensory Skills
Raido due to his training under Yama and in the depths of the Naraka Realm has gained a 6th sense. This unlike most conventional sensory ninja does not sense chakra. It instead senses the Dukkha of an opponent, Dukkha is
"Suffering",
"Stress",
"Anxiety", or
"Dissatisfaction".
It comes in 3 patterns and 8 levels, as the higher the level the easier it is to sense the power and anguish of the opponent/person. Due to this Raido has become a renowned tracker and sensor, it is unknown to other as they believe it is the chakra of the person he can sense when in actuality, it is their negative Karma in a sense that Raido is sensing that gives off their locations and distance. Negative karma however unlike chakra, can not be hidden or masked, as it is something that leaks from the soul and essence of a person. This has made it hard for Tsuki no Ai to hide from the prying eyes of Raido, as now he can sense the dukkha of his friend and foes alike. This ability seems to be passive, as whether Raido want to sense them or not he can get a fix on the level of dukkha a person possesses. He can even sense his own. However due to his inexperience with the sensory abilities and lack of time he, unlike yama can not detect the specific level of suffering, nor identify the person identity just by sensing alone. Which make Yama greatly more advanced at sensing than Raido. Raido has noted that its easy to distinguish certain Kg such as the Sharingan, and the certain clans due to their traditions and hisotry.
Three Patterns
Also referred to as the suffering of suffering. Includes the sufferings of
Birth,
Aging,
Sickness,
Death,
Coming across what is not desirable.
This outer level of dukkha includes all of the obvious physical suffering or pain associated with
Giving birth,
Growing old,
Physical illness
The process of dying.
This is the first three patterns by which the other eight types fall into place with, it serves as the foundation for the undesirable. Everyone falls victim to a different form of dissatisfaction as found by Raido where he could even sense that even if someone shared the same level their individual suffering was different. Raido is able to sense a persons whereabouts and find their location using this sensing, however unlike Yama he can detect what form and direct level the suffering it on. Its this ability that had made Raido an expert tracker, even when his vision has been obscured, or his opponent is in hiding. He can sense them right away and attack, making Raido very conscious and aware. Making sneaking up on him or getting the drop on him virtually impossible.
Eight Levels
Birth-The discomfort of birth and experiencing the world for the first time; and the discomfort of relating to new demands or experiences.
Old age-The discomfort involved in the process of aging and growing old, this can apply to psychological as well as physical discomfort of aging.
Sickness: the discomfort of physical or psychological illness.
Death: includes the pain of separation and not being able to continue on in your endeavors, as well as the physical discomfort of dying.
Getting what you don't want: being unable to avoid difficult or painful situations.
Not being able to hold onto what is desirable: the pain of trying to hold onto what is desirable, lovely, splendid, terrific.
Not getting what you do want: this underlies the previous two categories, the anxiety of not getting what you want.
Raido is not nearly as proficient as Yama in detecting and sorting them out, he has shown the ability to tell the difference, and understand the person dissatisfaction. This sensory ability allows him to get the jump on his positions which has made ambushing Raido nigh impossible. This sensory also allow him to work under conditions even when he is blinded or in the dark.
Dojutsu
Rinnegan
After being soundly defeated by fa' rao years ago Raido made it his business to chase after what at first he shunned. the Rinnegan, after realizing he maxed out the Sharingan and that it alone would not be enough to defeat Fa' rao it was the thing that would given him the needed boost to challenge the ancient figure. After months of falling short and failing, he and Kohana opted to take a very risy procedure That could have resulted in the death of Raido, however after these risky sessions there was still no sign of improvement, and without knowing how to gain access to it he initially gave up. In a state of awe and wonder he pondered for several days on how one should go about accessing the Rinnegan. In the present state of such thoughts he winded up passing out, his mind sent to the Naraka Realm. A spiritual guide came unto him and told him of how he did managed to awaken the Rinnegan, but his mind would be trapped within, the realm unless he completed the cycle, of Samsara to have a true rebirth back into the world. For a time Raido failed as his playfulness winded up being what reset him. His spiritual guide often quoted of his special brand of ignorance, where Raido felt the need to turn everything into a joke. After a series of failures the guide came to the conclusion that while the man had good qualities, his own ignorance would be his fall until he learned otherwise. However once Raido was shown what it meant to be trapped in the Naraka Realm he began to wise up and actually take this more serious which, allowed him to complete the cycle, and comeback to the normal existence. He found that he had acquired the Rinnegan, albeit at the cost of his Sharingan, and that he gained access to a the Outer Path, and Naraka Path. He studied over the course of years to understand the working of such powers which marked his true Ascension as Raido X. His abilities within the Paths that he utilizes have often made people weary of fighting him, as his moves have troubling and unholy effects on people when caught within these moves. In his study he created a Version of the Kamui for the Rinnegan known as the Siddha, where he can erase his mortal body going intangible the same he would with the Kamui. Showing off his ability and extensive knowledge of his once former jutsu to apply it to the Rinnegan. Due to his enlightenment by both the Naraka, and Outer Path Raido has become a sensor. Able to detect the Negative Karma, or Dukkha( suffering, stress, anxiety, or dissatisfaction). They come in the forms of sufferings of birth, aging, sickness, death, and coming across what is not desirable.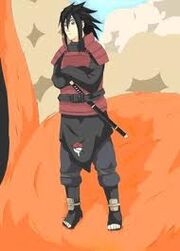 Former Abilities
Over the course of his lifetime Raido abilities has been in a constant flux, whether it was him gaining new powers or losing old ones. He has gained/lost a good portion of his abilities. Such as his Freezing Release which was an advanced form of his Ice Release to which he wielded with extreme proficiency, combating even the move powerful of Fire Release Moves. Even his trademark Sharingan which was one's claim to be apart of the Uchiha Clan.
Dojutsu
Sharingan
Raido awakened his Sharingan at the age of 8 when he was attacked in the forest by a pack of wolves in the mountains of Yamagakure he survived as he was able to track the wolves movements and defend himself until help arrived. After this he began to practice nonstop to master the ins and outs of the sharingan and can keep it activated with next to no drain on his chakra levels. He is a master of the hypnotic ability of the eye as seen when he is interrogating enemies or putting thought into their mind. his eye even by the uchiha standards is rare and Unique as he possess the ability to Use Kamui and utilize the Space-Time Migration to slip through a pocket dimension, he uses this to warp long distances and find anyone he wants no matter where they are. These abilities alone made his eyes sought after by those around the world looking for dojutsu. His proficiency with the Kamui has improved immensely since his Becoming of Raido X as he can swallow a persons body whole in another dimension, subtracting the time his opponent has to space or when he drags them into his dimension. He even used his new found talent with Kamui to create his Dark Slayer style that allows him to cut his opponents using Space and Time. Hes even created off brand jutsu using the Kamui as its basis trapping his opponents in dimensional prisons, and sealing them off in from the real world. His sharingan has also becomes more focused as no he has shown the ability to take over the minds of beast and people and rather than tame them altering their sense of purpose, and goals, even giving them a false sense of tranquility. He is extremely well versed in his Sharingan, however his ture calling and prowess in the sharingan his is Kamui.
His eyes are considered a great treasure due to the fact the due to his Possession of the Kamui, and another rare jutsu that is passed down among the Descendants of the Izuna Uchiha family he is often sought after. Often leading to his adventurous lifestyle and why he is constantly on the move. In the wake of gaining his Rinnegan, he lost access to his sharingan, as the Sharingan is a devolved Rinnegan. Since he managed to reunite the bloodlines of his Uchiha and Kohana's Senju/uzumaki genes, it was completed. A gain he didn't have any qualms about.
Mangekyo Sharingan
Once Raido activated his Mangekyo in a battle where he and his team were under heavy fire he opened it and manage to protect his teammates, Unlike most Uchiha Members he did not obtain the Amaterasu or the Tsukiuyomi he instead gained access to the Kamui which allowed him to use Space-time and the Amenoukihashi which allows him to use Time space respectively making Raido an extremely dangerous opponent. Through time and practice of the jutsu Raido X has become a masterful user of the Kamui. Amplifying fighting style, allowing himself to decrease the speed he needs to warp himself around quickly on the battlefield allowing him to string together combos and attacks at an alarming rate. Using the distortion capabilities to increase the attacks of his teammate or even send it back to his opponent. It is almost safe to say that he is at his best when this move is employed. His years and constant study of the Principles of the Kamui have made him a sought out teacher of the move as profound shinobi such as Yoshitsune Uchiha,and Kiba Uchiha have been students of his once to master the mold of this move. Even Tobi was surprised as how he could extend the jutsu the way he has stating that his proficiency level with the jutsu has improved to the point where it barely even affects his chakra levels. However in the recent events of awakening his Rinnegan he lost the ability of his Mangekyo Sharingan, and his Eternal Sharingan to boot. Though this lost was a severe blow to him, he managed to find a way to work arund this and compensate for the loss of his prized kamui, by creating a variation of the move with the Rinnegan.
Eternal Mangekyo Sharingan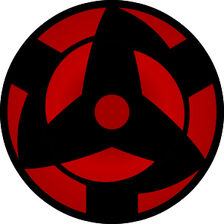 After the defeat of his brother and the transplant of his eyes he gained the ability to never lose sight again, Most Uchiha master at least one power of their Mangekyo for Raido it was the Kamui which has become his most versatile and yet dangerous weapon in his time of battle. He can Transport a entire person in a alarming rate of speed almost instantly depending on the level of focus he applies to the jutsu the acquisition of his brother eyes allowed him to create several moves based on the principles of the Kamui. He was once know as the God father of the Kamui a name he would adhere to as he stated he was that jutsu's greatest master. However after the gain of his Rinnegan he lost the ability to use the Kamui, and instead created a Rinnegan based jutsu that focused on the same principles of the Kamui.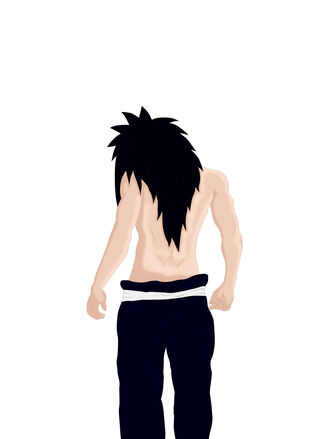 Freezing Release
Part 1 Enter Raido Uchiha
Bad Blood Arc
Takenshi Uchiha Raido's older brother, confronted him after leaving him clues on where to find him as the two battled for the eyes. At first Raido was against this move, even after learning the truth of his mangekyo sharingan and the extent Takenshi was willing to go to save himself, Raido was left with no choice but to retaliate. At first they were a dead tie with both gaining the upper hands randomly. This battle took places over the course of 2 days as first each stuck with their guerilla hit and run tactics however, after the initial fight began and ninjutsu was involved. Takenshi began to struggle with Raido's prowess with the Kamui unable to see hwo it worked for a time, it wasnt until he unleashed his Susanoo in its perfect form that he began to change the tides of this battle, and regained the upper hand. Raido now on the defensive hand began using his Kamui to attack Takenshi from underneath exploiting its major weakness. Once the battle had ventured into its last night, it was here the fatal blows would add up. Both men fatigued by this extensive battle, reached for their swords as the the two stabbed each other at the same moment. Unfortunately for Takenshi this move proved to be fatal as Raido was the better swords man and he managed to make a critical blow while Takenshi only managed to tear through Raido's shoulder. He admitted that Raido was the better man and deserved to be the last man standing, asking that he take his eyes and let him see the future with him as he grew up before succumbing to his wounds. Had it not been for Kohana demanding she come along Raido would have died from this battle as well as he had to be carried away as he was in critical condition.
After a few months had passed since he transplanted his brothers eyes, he was sent on a mission to Kusagakure along side Kohana a joint mission between konoha, and Yamagakure to investigate a uprising of a criminal group, that was ran by an unknown man. After investigating it turned out this was the same group that captured Raido' team so many years ago, and then used them as a way to bargain his capture as well. He found the new face of the leader who was Tamotsu Yukimura a tyrant known for his hatred of the Uchiha, as the two battled. Tamotsu managed to surprise the Uchiha, but Raido overcame the traps and managed to get the upper hand, however Tamotsu escaped and left before he could be captured.
Just weeks after the Kusagakure mission he was given a map by his village and sent to seek out a certain weapon that was once wielded by the Rikudo Sennin himself. he was to met a young man by the name of Tyler Solis, the two had an bit of a standoff due to their conflicting feeling of Orochimaru, who Tyler greatly respected while Raido trash talked him. The two ventured and talked until they came upon a strange Obelisk that led to an underground ruins that had lore of the weapon, it was here they battled large guardians and golems, the two despite their inexperience in working together both fended of the attacks easily. At the back of the Obelisk was a Reapers Edge which when Raido grabbed it bonded to his arm and chakra system. This would prove to be a grave mistake as he had released the tomb of one of the most powerful men in all of existence Fa' rao. However it wasn't until their fight he arose from his slumber and challenged both men. Fa' rao severely weakened after generations of imprisonment he still managed to hold off both men who were fighting with everything they had, however he was beaten back and he retreated. Raido on the other hand had become a host for this weapon that needed chakra to sustain its powers granting great abilities to the user. This symbiosis led to Raido keeping the weapon and even using it today as the weapon will only break off its relationship with the host when he/she dies. Eager to show off his new weapon, and with Tyler making it clear he wanted to steal the eyes of Raido the two battled. This battle was devastating and it could have gone either way at any moment, Tyler however was fooled into thinking he had the upper hand, when Raido led him to believe he won when he revealed he knew the truth of tylers body experiments. and threatened to use his Amenoukihashi which would have had fatal effect to Tyler after raido explained what it did. Raido had cleary won and gained the upper hand, however in a burst of anger Tyler summoned massive creatures which rose to the sky and attacked Raido. Adapting to the situation, Raido managed to hold his own until Tyler used a jutsu that allowed him to summon a portion of the Orochimaru chakra within him and bring it to life. Adding Orochimaru to the fight. Raido retreated as he knew it would be impossible for him to fight both men in his current condition.
Not long after obtaining the Reapers Edge, Raido was called forth once more by Konoha and Yamagakure to deal with a mysterious, group of shinobi. Who attacked Kusagakure by surprise and managed to burn down the village slightly. After gaining access to the village and fighting off waves of attackers along side Kohana Uzumaki.After using his genjutsu on one of the surviving ninja he discovered Tamotsu Yukimura was behind it all once again, rising from exile. They eventually ran into another hunter from another village who was also here to capture the leader and end this groups crusade. This hunter was Arashi Toyotomi, the Dark Hunter from his village known for his High success rate on missions. The 3 agreed on temrs to share info and work together, to bring this group down. After taking down multiple members of his team Raido faced off vs Tamotsu one last time. This time Raido managed to easily battle the Ice Release user and hand him over to Arashi to turn into his village.
A year or so later after a serious of successful mission and vactions and traveling Raido was called on again by Yamagakure and Konoha to assit in the raid of supplies heading from Otogakure to an unknown destination. He was to meet Kohana there and stop the shipment before it moved out, as it was said to be bodies for Orochimaru and Kabuto to experiment on. However when he arrived it was a trap, and Kohana was under heavy attack, by the time Raido arrived it was to late, the shinobi who attacked Kohana managed to overwhelm with their numbers. She managed to defeats a decent number of them but she she would later be defeated leaving her in fatal condition. After returning to report the missions failure and to get Kohana to the intensive care, he waited just long enought to hear her prognosis. She would barely but she was heavily wounded and would need extensive bed rest. Angered beyond all reason Raido confronted the top officials of Otogakure and demanded the Men be brought to him. To his dismay nto only would they not be given to him but they mocked her injuries as Raido headed out, fueling his anger. Leaving without a word it wasn't until He was nearly gone where one of the Otogakure ninja realized who Raido was and said how Kohana talked about her reinforcements would arrive to help her. Only for them arrive to help he live in time to get help. This turned to the the last straw as in pure rage Raido lashed out killing the men. What started as a simple fight broke out into an all out assault as other Oto nin rushed to help but to no avail. Raido raged war on an entire village, and tore a warpath through it until he finally calmed down. After Nearly laying waste to the entire village he left without a trace.
Rise of Terror Arc
A few years had passed since the Otogakure incident and he came back into the spotlight, he eventually caught wind of the Shinobi Olympic Games to which he entered and met other fighters around the world. in the 1st round his opponent was no show giving him the early victory. His 2nd fight was against Kenji Kayuga, this proved to be a decent battle as the two exchanged jutsu and moves, although there was no clear winner, the judges felt Raido was the better fighter and went to the next round. His 3rd fight was vs the deadly but beautiful Miyuki Murakami, this battle was considered one of the best as the two were considered to be 2 of the best fighters there, and were even in the initial beginning of the fight. For a time Raido proved to give Miyuki all she could handle until she began using her more dangerous moves, putting Raido back on the defensive. it wasn't until raido began unleashing his more deadlier moves as he able to gain a slight advantage again. However using her Prowess of her deadly Ketsugan, she managed to have Raido undo the move. The two contiuned to battle with no clear winner until Miyuki had managed to inject Chi Chakra into Raido's body attacking him from within. With not enough chakra left to use his Amenoukihashi to get rid of the chakra and no other options to get around it he simply had to admit defeat. However he instead took Miyuki out to dinner later after the tournament to celebrate her win over him.
Kohana was interested in fighting Raido, however the young Uchiha would laugh off her attempts to fight her and even make her wait. Something to she took to great offense as she felt she could challenge him and even win. She decided to tell Raido the truth of her past, and her days with kabuto and Orochimaru. AT first he passed this off as well, btu when she attacked him and said she was going to kill Raido and bring his body to orochimaru, as she was still a spy and her job was to earn Raido's trust and get as close as possible before she would finally kill him Raido took her serious. At first he attempted to fight her and go easy which resulted in Raido losing mobility in his legs as with her abilities in the medical ninjutsu she managed to tear the cartilage in his Right knee hampering his speed greatly and removing his taijtsu from him. From here Kohana methodically dismantled Raido as she managed to even tear the musles in his right eye taking away a few of his Kamui abilities. It was here Raido took her serious, and fought back with everything he had. In the end Raido was too much for Kohana, and he won, but told Kohana he knew of her bluff, and that he played along. When questioned on how Raido responded pointing at his eyes, asking if she would fix the damage.
After their first battle ended in a tie Yasuki and Raido managed to meet each other and attempt to battle. The fight lasted quite a bit of time as Yasuki showed he managed to improve immensely over the span of the years. Raido no slouch himself showed the improvement he made in his abilities. The fight came down to Raido tricking and Trapping Yasuki with his own move, as he went intangible showing off his new discovery with the Kamui a move he didnt use their first fight, and Yasuki was hit not only by his own move but by its reflection as well. Raido said he would continue if Yasuki could stand as he was really ready to show his More powerful moves to which yasuki objected giving up thus Raido was the winner. He then went on later to train Yasuki hoping to extend his combat abilities.
A month after thier battle Raido was request by Yasuki to meet him for the training he promised. It was here Raido discovered Yasuki became a jinchuriki, and even managed to become an even greater shinobi. The two trained and even the Tailed Beast himself commented on how power the uchiha was and how dangerous he could become if unchecked, something Yasuki reassured him on stating Raido may not be what you call a hero but they were friends and Raido was not evil by any means. The two would train until they were finished, happy with the results of Yasuki's training he would leave.
A month later Raido came acorss a land and village he had no prior knowledge about, the eager adventurer he was he went to enjoy the sights, which led to him meeting a a young lady by the name of Takeko Nakano, the two had a friendly chat before Raido wanted to test her ability in combat, to see if she was a as good as she said. The two fought heavily with no clear said gaining the complete advantage. Raido with his sharingan and Takeko with her Rinnegan/Byukugan abilities. IN the end the fight ended in a draw with the two never having a clear victor. However Raido spent the majority of this fight on the defensive end.
Continuing his travels he managed to come into another village he was not familiar with, called Gingakaure at first it appeared to sit well with him, until in the store he was a man who was identical to him in the appearance. Raido confronted the man and found out he was of Madara Uchiha family, to which raido told him of hw we has of Izuna Uchiha lost family. Looking to see if This man who was known as Yoshitsune Uchiha could live up to the family name Raido challenged him to combat. The two fought greatly and pulled even in the ninjutsu department, howevr Raido managed to gain the upperhand in taijutsu area. After the battles continued both men appeared unimpressed with each other's skills. Raido looking to regain lost honor for Izuna claiming that Madara built his legend of the back of Izuna, and that if not for his eyes, he would be nothing. The fight would never had a clear victor as Raido sensed the a powerful surge of chakra. The he remembered all to well as he left to go confront the source of it Fa' rao.
After traveling a few days to discover the whereabouts of Fa' rao he was ambushed by a Unknown group, this group was a created cell of terrorist whose ambitions made the Akatsuki seem like true peacekeepers. Fa' rao appeared and challenged Raido stating he was weakened after his awakening and that now he was strong enough to beat him. when the battle started Raido quickly saw even with his powers and prowess he was no match for the ancient figure. For the first time in his life Raido was in a battle to which he had no chance of winning. He was outsmarted, outmatched, and overpowered, as Fa' rao dismantled Raido at his whim. In his arrogance he told Raido the truth, that he was the man to face of the sage and that even now his power was not near what it use to be. Looking to grind the Uchiha's pride even further into the ground. It was here he finished Raido off and had Terrax use the Sumerian zone of The Elysium Seal to imprison Raidon in the same prison Raido released Fa' rao from those years ago. Stripped of most of his abilities, and memories Raido was soundly defeated and sealed away.
Lost Years
Shades of Black Arc
After his defeat and fall at the hands of Fa' rao he was sealed away by Fa' rao for an unknown amount of time, while the exact time of his imprisonment is unknown. It is estimated he was sealed for anywhere to a max of 7 years, during this time he was stripped of his abilities, and lost a lot of his former power he had gained until Tsuki no Ai attempted to brainwash him and release him under their control. This led to a separate arc to which Kohana Uzumaki and Arashi Toyotomi looked for him for a time before giving up believing him to be dead. However in this time Raido was released and his memory was gone, he was working for Tsuki no Ai but moving on his own admission to regain his memory, due to the fact Raido wasn't clear of who he was these are considered his lost years.
After being imprisoned for an unknown period of time (estimated to be a span of 7 years). he was released by Raizo Ozunu who decided perhaps with his memory gone they could rebuild him and make him a member of their team. He was immediately trained by Shurado who taught Raido the Freezing Release and Ice Release. Impressed with his mastery he was released on his first mission to capture a Storm Release user, however he foud himself attacked by Remnants from the rebuilt and reborn Otogakure. They were doggedly hunting Raido for 7 years hoping to make him answer for the destruction of their home, after being hunted constantly and not knowing why(memory still gone at this point) he followed one of the shinobi back to the village and finished what he started. Using a move he was recently taught the Yang Release: Raging Sky Raid which created massive orbs that would steal chakra from the atmosphere, and then unleash its raw power and completely level a village in under 10 minutes. In this time Raido laid waste to everyone who rose to fight him and even those who just happened to be in the way for the next 10 minutes. After the time had elapsed he retreated to watch the carnage from a safe distance, Otogakure was completely wiped off the face of the earth, nothing was left but Dust and Echos, to which he returned to scope the damage. The damage was immense and the attack made quite a view attracting Arashi Toyotomi, and Kohana Uzumaki the two who were hunting for Raido intensely. At first they did not know it was him as his outfit was very different but when he unmasked himself and made it clear he did not know who they were and attempted to leave, leaving Kohana stunned and hurt, and Arashi angered that Raido could cause a Mass genocide such as this and later joke about it.
Directly following the his Mass extinction of Oto, he pressed on with his mission, to capture a storm release user, he finally came upon his target and began to attack him, this led to the discovery and reintroduction to Setsuna Hatake, another old friend of Raido's past. Confused as to his whereabouts for the past several years, he attempted to talk to him, however Raido savagely attack him for protecting Hayate Hayashi, to which Setsuna did not understand but fought back. However he was quickly overwhelmed by Raido's new powers and strange abilities not even comprehending what they were. It was until Ki showed up that the three men were able to have a fighting chance against the Uchiha. Constantly trying to remind him that this was not the Raido Uchiha he knew, that he would never attack his friend in such a manner it was there Raido made it known to the world he never heard of Raido Uchiha, stating he was Raido X. This name change resulted in him never going back by his previous name as he pressed forward in the battle. Eventually by was called in by Fa' rao in time before he managed to finish the job.
A few weeks after the Run in with Setsuna, Raido resumed his traveling exploits and since he not needed on a mission he could go where he pleased, he evetually ran into a young girl named Shirayuki Uchiha she immediately recognized Raidofrom the stories that were told about him and his resemblance to his ancestor Izuna Uchiha, she went to speak to him. Overjoyed to finally find another member of her clan she introduced herself and spoke of their clan. Raido whose memory had not returned spoke how he had never heard of such a clan, and that he was a solo act he didnt care about clans, especially on that was extinct. Shirayuki whose love for the uchiha clan was greate refused to let anyone talk about her clan, even one of its own members as she tried to fight him. She was beaten back and shown smercy by Raido whose was was far more combat experienced than her. However in echange for telling him about this clan he promised to teacher her. For 6 months the 2 trained and talked, and she told Raido of his life and slowly he regained his memory until it had properly came back. Remembering his life prior to his sealing, he thanked the young lady and decided she had learned enough and that he would be back to check on her in the future.
Part 2 Rise of X
Winter Solace Arc
A few weeks after the Run in with Setsuna, Raido resumed his traveling exploits and since he not needed on a mission he could go where he pleased, he evetually ran into a young girl named Shirayuki Uchiha she immediately recognized Raidofrom the stories that were told about him and his resemblance to his ancestor Izuna Uchiha, she went to speak to him. Overjoyed to finally find another member of her clan she introduced herself and spoke of their clan. Raido whose memory had not returned spoke how he had never heard of such a clan, and that he was a solo act he didnt care about clans, especially on that was extinct. Shirayuki whose love for the uchiha clan was greate refused to let anyone talk about her clan, even one of its own members as she tried to fight him. She was beaten back and shown smercy by Raido whose was was far more combat experienced than her. However in echange for telling him about this clan he promised to teacher her. For 6 months the 2 trained and talked, and she told Raido of his life and slowly he regained his memory until it had properly came back. Remembering his life prior to his sealing, he thanked the young lady and decided she had learned enough and that he would be back to check on her in the future.
After a few month of getting reacquainted his is old lifestyle and friends and most importanly his crushing defeat at the hands of Fa' rao, he decided to train more, but relaized that he had maxed out his Sharingan abilities. With the growing rumor of Fa' rao finally at his full power, Raido realized that he stood no better chance of now than he did then. Raido X cae to the conclusion he needed the one thing he once hated and shunned, the Rinnegan. Raido was no fan of the Rinnegan, as a matter of fact he hated it, but without it he would be a fly to Fa' rao so he decided to start his quest to learn how its get it. As a child he remembered reading the old scrolls in the Naka Shrine about the legend of the Rikudo Sennin, and he learned that you needed to unite the Bloodlines in order to obtain the Rinnegan. While solving his earlier problem this did not satisfy his goal, he did not know any senju, but he was aware of the relationship between the Senju and Uzumaki. But in order to confirm this he went to the source, and that was Uzumaki village. When he arrived it was in shambles, and ruins, while searching he instead ran into a young Senju man known as Sannoto Senju. After finding out each others background, Raido made it clear he's wasn't one of those Uchiha fanatics of kill the Senju and that he cared little for the Curse of Hatred or Will of Fire. Relived to hear this Sannoto and Raido befriended each other, this did not stop them from challenging each other. Their fight was compeltely even down the middle no one had the edge and if they did it was knot kept for long, after being impressed by the Senju battle capacity he decided to help restore the village. In exchange for the Senju telling him the answer to his question Afterward the two parted ways looking to help move the populace back.
A few days after assisting in the reconstrucure of the uzumaki village Raido was relaxing on the well known mountains of his home village Yamagakure. He was approached by a man who was seeking out Raido hoping to test his brass against the Legend of the Dark Slayer. The battle went rather smoothly as Raido managed to etch out a slight advantage over the man, however as the battle continued Sayotsu turned up the heat, putting Raido on the defensive, Raido methodically outsmart Sayotsu, and took away his speed and advantage by attacking the land, leaving it in a hazardous condition making it impossible for Sayotsu to run at his inhuman speeds any longer. From here Raido and Sayotsu started to use their more dangerous moves and before long it was clear Raido was the stronger man resulting in Sayotsu giving up seeing his jutsu was inferior to the style of Raido's giving Raido the victory. After his victory over the man and impressed by his confidence Raido staught him new moves to improve his dexterity in combat. Satisfied that he lived up to his legend and vowing to return for a fight Sayotsu left.
Immeditealy following the battle that took place at the highest Point in the mountains of Yamagakure, Raido was sought out by a clans brother. Kiba Uchiha, a man who came to Raido looking for knowledge and understanding of the infamous Kamui. He hard rumors of the Uchiha's prowess with the space-time ninjutsu, and delegated to come to him for assistance. Raido was reluctant to teach at first demanding they spar and under terms if Kiba should force him to activate his sharingan he would train the man. The two fought for what seemed an eternity, as for a moment it seemed Kiba could not push Raido to use rely on his sharingan, but in time a clever combination his Kiba behalf left Raido with no choice, but to use his patented Kamui to defend. After he met the temrs the two trained, and soon Yasuki Hatake came up and interrupted which led in Kiba and Yasuki doing battle. However it would apear theat Kiba needed to leave and this left Raido and Yasuki head one man to man one more time. IN the last bout Yasuki was forced to submit, however in this one he had new tricks up his sleeve. That trick was a tailed beast. The winner of this spar was never seen nore determined.
Jst days after his battle with Sayotsu Raido joined the Shinigami games and he met with shinobi around the world again. I the first roud he faced off against a familair face in Sannoto Senju, not wanting to face such a strong opponent so early on in the fight btu excited nonetheless Raido and the two fought. The battle was still a dead tie, and the audience was in awe of the men's abilities as the two went back and forth, however Sannoto was disqualified for using a Clone technique, resulting in Raido's win. Raido attempted to argue this call, as he did not want victory handed to him, however the judges refused to overturn the ruling. In the 2nd round he faced off against a young female in Miyami Uchiha, however the results this battle was never seen.
Black Knights Arc
After trailing Tsuki no AI for years and finding no leads, he joined the Black Knights to better expand his reach to find them. IN time he heard rumors of Fa' rao growing power and learned that he failed to beat Fa' rao when he wasn't even in his best form. Raido learned that his Sharingan was maxed out and it alone would not stop this man of near God-like powers, beginning the conquest of his Rinnegan.
After joining the Black Knights in hopes to better track down Fa' rao, he was given his first mision to assit in the take down o a group know as the Neo Akatsuki he and his partner Kurokishi Shinto were assigned to capture or kill Inari Okami and Hideyosh. Raido got the early headstart and managed to come acorss Hideyoshi to which the two did battle The samurai announced his hatred of shinobi, as he attacked raido with his blade. However Raido a expert swordsman in his own right managed to fend off the man and have the upper hand due to his vast Ninjutsu, it was't until Aoi Hyuga arrived as backup to fight Raido that the field became even. The two battled as they tried to escaspe which failed as Raido easily found them with his Kamui. However Raido true to his neutral nature made it clear he was not interested in stopping the Neo Akatsuki's goals as they did not bother him, he was willingly to look the other and say they his targets got away at the last minute. Allowing the men to escape as he wet on to find Fa' rao.
After his failed mission to caputre his targtes Raido started his pilgrimage to unlock the Rinnegan as he traveled to Konoha but rather than Warp he walked and went by boat. he traveled all across the Land of Mountains and ran into a series of misadventures , even being mistaken for his brother which resulted in betrayal and the death of the men who tried to kill him. Raido was also sought out by Setsuna to assisti with helping him control his curse Mark as the man was driven to near insanity. Raido laced him in the Sharingan Dimension to be in aplace of peace where he could tame his darkness. Moving forward he found Kohana and she helped to assist if Raido would finally marry her and spend the rest of her life with him. Raido obliged as long as this worked, from there she extracted her DNA and injected him with sample of her own cells. Giving him a setady dosage of shots in the main arteries of his body. At first there was no change, and with signs of what to look for Raido became restless, not wanting to give up he asked if Kohana had anything from Kabuto notes about that could help. To which she exclaimed there was but she not was so quick to embrace it. Raido on the the other was willingly to take this risk regardless of the consequence, much to Kohana dismay. The two got into a huge fight which almost resulted in the two breaking apart fo the first time in years. Seeing how much this meant to Raido Kohana gave in and decided to help but made him promise never to ask her to do something that would risk his life, as Power wasn't worth it. He promised and the sessions started as Raido using his mastery of the Freezing Release he put his Mitosis of his cells in a retarded state slowing them, allowing Kohana to use her Medical Abilities, to locate her cells and speed up their Mitosis to perfectly sync with Raido normal cell divison. This was repeated at least 5 times for the next few weeks as it was a delicate procedure, but still without changes in sight. However it wasn't until Tensai Uzumaki whose hatred ofr Raido and the uchiha has reached its boiling point attacked both and put Raido in a position where if he saved himself Kohana would die, but if he saved her he would die. It was here in desperation and in the light of his recent failure did his Rinnegan awaken in his eyes, s he manahed to save both of the and defeat Tensai.
After spending the next few weeks training his Rinnegan, ad sharingan learning how to use them both to great use. He found himself in another land he had no knowledge of. As he went to grab something to eat he came across a name he had heard quite the stories about, this man was Kaname Soga, a man who had recently obtained some interesting powers as well. After their introduction and true to his nature Raido Challenged Kaname to live up to his name, to which the two did battle. Though Raido was able to hold his own he was off balance most of the fight by Kaname's wide assortment of abilities and jutsu. Raido has never seen such attacks prior to this battle, but he did well to keep Kaname on his toes Both men had great mastery with the Kamui along side other moves as well. Toward the end the battle took a serious note as Raido activated his Rinnegan and Kaname activated his Yuriagan. Both men eager to show of their new talent they each traded off jutsu showing their metal turning it from a battle to a showcase, thus ending this battle without a clear winner.
After his battle with Kaname he returned back to his usual spot on the Goddessdrop Mountain, just taking life easy when Sayotsu once appeared ready for his promised rematch. This fight was far different from their last as the two were well versed in each others moves, However Sayotsu fought with more effort rather than speed blitz Raido he attempted to outright overpower him. This worked for a time before Raido returned the favor equaling the fileds and even overpowering Sayotsu back. The two fought tooth and nail for a while both sides gaining the advantage only to lose it, to the other it wasn't until Raido decided he was done playing and Sayotsu made it clear he came to win one over the Uchiha did he activate his Rinnegan. The fight continued as the two fought heavily still btu in the end it al came down to Raido tricking Sayotsu and used the human path to rip his soul out. However it was only a Thought Projection jutsu. While technically Raido would have won it was a hollow victory and not even the real Sayotsu which resulted in Raido leaving immediately.
A few days later Raido found himself in a metig of the Black Knights to discus the task at hand, which was Tsuki no Ai however the uprising of the Neo Akatsuki, made it hard to focus on two groups of overwhelming power. Yasuki Hatake looking to gather as many alies as he could decided they would recruit his uncle Setsuna to which was a success. Later on Raido gave each knight a Bingo book detailing each member of Tsuki no Ai's profile form weakest to strongest. After exchanging the info they each left out to move to their destined stations.
While aheading toward his destination he was approached by Yoshitsune Uchiha, due to the distance between their palce of residence Raido was taken aback by Yoshitsune appearance much less that he came to Raido for assistance. However after explaning the situation Raido understood why, he wanted to learn the principles of the Kamui. Raido being the world renowned user of the jutsu it was only right for Him to come to Raido. Raido taught him the ins and outs of the jutsu and even a few shortcuts. Afterwards The two had a fight that resulted in both drawing even for a time. Their were moments where Raido took the upper hands such as Taijutsu and the Kamui, and moments where Yoshitsune took charge Genjutsu, and Susanoo. However in the end Raido was not prepared for the weapons effcts of Yoshitsune as he was hit sealing all of his chakra. Leaving him to Taijutsu and Kenjutsu, while in Taijtsu he still held the clear advantage he fell due to not being able to use the Dark Slayer properly, and he was defeated. Raido praised Yoshitsune as for today he was the better man. Raido was unprepared for such a weapon and had known it would not have hit. Afterwards Raido's chakra returned and to spite Yoshitsune he activated his Rinnegan to fly off on one of his summons, Slightly angering his Distant cousin as was not aware Raido had unlocked the Rinnegan and worst he didnt use it.
After his time with Yoshitune Raido decided he should go out and have fun one more time before he would go off on the mission for Fa' rao as he particapted in the Jigoku Games. He was met with new people and his usual crew until the start of the first match. Which to his dismay again was Sannoto Senju being a clear deja vu of their last time. However the rules were a bit different and the two battled each leaving and landing blows to the other. However Sannoto had showed his hands and made it clear Raido would work for this win. Using his tricks again Raido had created a explosive move to weaken their already small platform, and then use conservative attacks and allow Sannoto whose abilities at the time were Metal Release. It constance reliance on the this nature weakened the platform further and further. It wasn';t until Raido managed to land a Devastating blow on Sannoto where he actually did some damage, however this caused Raido to have a separated shoulder. After a brief dialogue Raido figured Sannoto had already proven o be worth it , so he unveiled his Rinnegan and b;lasted Sannoto heavily with theDeva Path. Ready for this Sannoto already had a jutsu in mind and the plan was to leave no where for the Uchiha to stand on the platform to either jump off or be a victim of his metal tree which absorbed chakra of his opponent. Raido was was nearly caught used his Animal Path to give him new leverage, and then use Asura Path on the fly to destroy what was left of the Platform. Sannoto quickly out of options used a Dive bomb technique on Raido that was large enough to black out the sun even and was going to take Raido down with him if he could win. Raido the quick thing her is created twins and had each use the intangibility of the kamui to make the bird intangible saving face form this technique, and getting over on Sannoto's crazy move. However to his dismay and happined Sannoto emerged using the pieces of metal from his last move to create several dragons that headed for the 3 Raido,s. After giving his respect Raido and his twin stoped the dragons cut out Sannoto's chakra and finished him off with a Huge blast from the Deva Path abilities once more enough to send him across a stadium and the large pit as he crashed into the stands. Sannoto was down for a minute as he was motionless but he got up and rather than fight back accepted his defeat on behalf of not wanting to have Raido attack or hurt the fans. Raido had finally gained victory over his long time rival, their fights were always ties till now, however the celebration was short lived asKohana Uzumaki found out Raido left without her again for another tournament, to which he ducked her out as fast as he could.
End of an Era Arc
After an Invite from Kiba to train as he could get stronger with his Rinnegan, after an initial battle with Kuchinawa Gekkō the two faced off with Raido gaining the egde on his Reproduced clones, it wasn't until Daikoku arrived the real fight began the battle was a draw as both Rinnegan uses could not gain an edge but Raido did show a new level of mastery with the Rinnegan.
A fellow member of the Black Knights named Yuraga Uchiha found out Raido was a black knight, and decided to see if he was truly as good as everyone said he was. The two members fought and while it was clear, there was no real advatage at the time Raido outlast Yuraga who went next to blind as he had the standard Mangekyo, giving Raido the victory. Ending with his saying that had they not have been allies he would have died not finishing a fight like that if Raido were someone else.
While on a trip to see Kohana to exchange knowledge, of their join mission, however her disgruntled brother returned and this time looking for blood as he challenged The Dark Slayer to the fight to the death. Raido tried to reason and talk Tensai out of this, but his mind was set and he anted Raido dead, and he attacked. However his efforts were of no avail and he found quickly he was outmatched, even after being defeated he made it clear he would not stop attacking the two. Leaving Raido with no choice as he used the Human Path to remove his soul in forn of Kohana's eyes
Shows the fall of Tsuki no Ai as the group slowly splintered, following the betrayal of Raizo Ozunu, who also convinced his Cousin Gekido Ozunu to defect as well.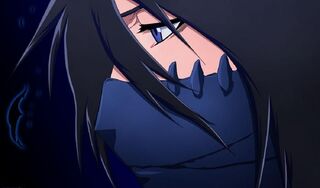 Twin Goddess Arc
A woman Scorned: Twin Goddess Arise
Severed Connection
Offspring of God?
Missing Link
Shores To Hell
Part 3 Legend in Question
Death Circus Arc
Forsaken Clown prt 1
Jack of all Trades
The Court Jester
Death Circus
CarnEVIL Demolition
Ground Zero Arc
Genesis Zero
Delta Position
Root of All Evil
It all falls down
Dark Forest Arc
New World Order
Martial Law
Great Contingency
World Chaos System
Zenith Prime Arc
Break some Bones
Live and Die by the Sword
Dust and Echos
Mountain Temple
Part 4 Ascension
Sins of the Father Arc
Bad Blood
Promise of Redemption
The Maw
Dark Side of Ambition
Demonic Statue Arc
Unfortunate Discovery
Devils and Monsters
What was once Lost
Long Night of Solace
Stats
Quotes
(To Fa' rao) Look around these days we have nothing but ninja who dont know who they are... you got ninja running around looking to be the next Sage of the Six Paths, guys who wanna be the next Madara Uchiha... even guys who wanna be the next Orochimaru.. No one want to be themselves and make their own name.... I dont wanna be like anyone.. but Raido X thats it.. I dont wanna be the next Rikudo Sennin, Madara, Izuna no one.. Im here to add my story in the mix.. I couldnt care less about theirs and have one helluva time doing it-To Fa' rao
Raido , I cant help but ask..... You have the Chance, power and abilities and the secrets to being immortal and . You could've lived, maybe forever." "The Power does test you, love. But better to not know which moment may be your last, every minute of your entire being alive to the infinite mystery of it all. And who's to say I won't live forever, huh ? The Man who laid the Fa' rao to rest. Nice ring to it but its not my call besides It's a adventurers life for me. -Convesation between Kohana Uzumaki and Raido X
I'm still the same guy , even after my enlightenment, I have truly ascended and see the truth of the world from a different view. Things that weren't clear to me when I had the Sharingan, are now clear to me with the Rinnegan. I have removed myself from the eye of emotion and reflected feelings. I have asserted myself within the [[Outer Path]]-To Tsuki no Ai
I know you guys like to think Uchiha's are all to happy to go around showing off their Sharingan and its power, I do not. I always fight without them and have gone fights without even ever activating them. End of the day it is a tool that like everything else has a weakness, but when an enemy leaves me with no choice then I then use them, it not only shows that I respect ones ability as I had to rely on them but also that I need to be at my best to win. The Rinnegan is no different I saved that just for Tsuki no Ai Raizo Ozunu
Trivia
As Raido X he is seen for the first time wearing the Uchiha Clan symbol.
If Raido had a Data book it would say: Raido s hobbies are, Reading, fighting, talking trash, traveling and gathering information
Raido favorite foods are Short Ribs, favorite drink vaires
The reason behind the changing of his name is widely unknown, however Raido changes the story each time the question is presented to him. Often leaving those to guess and assume why he changed his surname. Raido has yet to honestly tell anyone the reason behind the X, even his closest of allies.
Due to recent events there is speculation that he is connected with Nazo in some form.
Similar to Sasuke, Raido never addresses anyone with honorifics at the end of their names. He addresses everyone the same, regardless of status, or rank.