Ryun Uchiha
Talk

0
18,548pages on
this wiki
This article, Ryun Uchiha, is an article only to be used by Ten Tailed Fox.
editRyun Uchiha

(うちはリュン, Uchiha Ryun)

Debut

Appears in

Anime, Manga and Movie

Personal

Birthdate

December 12

Gender

Male

Age

35

Blood type

AB

Kekkei Genkai

Classification

Occupation

Affiliation

Team

Partner

Clan

Uchiha Clan

Rank

Ninja Rank
Ninja Registration

121292

Academy Grad. Age

6

Chūnin Prom. Age

9
"Uchiha blood courses strong in my veins... and I call this village my home!"
— Ryun about Yamagakure
Ryun Uchiha (うちはリュン, Uchiha Ryun) is a legendary shinobi, one of the last surviving Uchiha clan members, who became the new leader of the Uchiha clan, having succeeded the position from his ancestor, Madara Uchiha, after the clan was restored. He is also the First Yamakage (初代山影, Shodai Yamakage) and the founder of Yamagakure. He, along with Seireitou Hyūga, Echo Uchiha, and Hikaru Kurosaki are all recognized as "the four Yonkō".
Background
Early life
Ryun Uchiha was born under unusual circumstances; the bastard child of a kidnapped Uchiha soldier and an unknown Kirigakure seductress, during the Second Shinobi World War, Ryun grew up without knowing the loving gaze of a father, or the tender care of a mother — and he was only the first of many born out of this plot. According to Ryun, he was the oldest of six brothers, though he took partiality to the youngest of the six, Tora Uchiha. Shortly after he turned six years old, Yagura, the Fourth Mizukage, took hold of Kirigakure, and was subsequently taken control of by the machinations of Obito Uchiha, turning the village into the "Village of the Bloody Mist" (血霧の里, Chigiri no Sato).
His reign brought about new persecution on all of those who possessed kekkei genkai, including the newly acquired Uchiha members, which Kirigakure had previously bred to obtain the Sharingan for themselves. Ryun pleaded to his father to do something, but the man had become broken by lust and torture, and thus, Ryun gathered up his siblings and fled the village, hoping to make a better life for them elsewhere. The Land of Water, however, would prove to be an almost constant challenge for them during the years in which they would roam the countryside. A combination of near constant hunting from Kirigakure officials, as well as the harsh weather, and even more monstrous fauna, kept the Uchiha children in constant fear. As the oldest and more powerful of them, Ryun became the leader; a position he would regret in his later life.
Over the next few years, Ryun and his rogue siblings fought off starvation, sickness, and more fearsome opponents, such as the native giant electric eels which prowled the rivers and streams of the Land of Water. The group usually resorted to living in caves, moving every other week to avoid detection by the country's shinobi. During one such outing, in order to cross a bridge to the second island in the Land of Water, Ryun was confronted by a tough obstacle; a Kirigakure supply caravan that would no doubt see them if something wasn't done. Despite the gnawing feeling of regret, Ryun ordered the oldest brother (after him) to distract the shinobi, while he secured their brothers' safety. Doing as he was told, the older brother caused a distraction, allowing Ryun and the other five Uchiha siblings to sneak passed the caravan, but was subsequently killed in the process. Despite his deep grief, Ryun decided to kill his feelings, allowing him to make tough decisions for the group — though Tora seemed to be the only one he could not sacrifice in such a manner.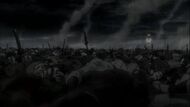 In the weeks following this, with Ryun now eight years old, Kirigakure erupted in yet another civil war, with the Kaguya clan rebelling against Yagura's rule. As Ryun's group made progress towards the edge of the Land of Water, they were inevitably caught in the conflicts, causing Ryun to have to fight on certain occasions. In one battle, Ryun stole a tantō off a dead shinobi's body, allowing him to fight back. In conflict after conflict, Ryun fought with death knocking at his door, to protect his younger brothers from harm. Nevertheless, there were losses along the way. On two different occasions, one of Ryun's younger brothers were killed, leaving only three surviving Uchiha siblings, including Ryun and Tora.
In the aftermath of one of these conflicts, while sitting near the edge of a small river, Ryun met an equally young Seireitou Hyūga, who was also resting, though he doesn't initially know what from. Though initially weary of one another, the two eventually gain the other's trust, and Ryun introduces his two remaining brothers to Seireitou. In subsequent meetings, Ryun shares his ideals and dreams with Seireitou; particularly his desire to create a village where the horrors of the Hidden Mist would never be repeated. One day, their daily meeting by the river is interrupted when fighting breaks out between the Kaguya and the Kirigakure forces. Picking up his tantō to fight, Seireitou is surprised, and mistakes Ryun for a shinobi. During the fighting, a wayward explosion kills Sanji, leaving Ryun and Tora the only survivors of the Uchiha siblings. After the fighting, and resting among the corpses of the deceased shinobi, Ryun and Tora are approached again by Seireitou, this time, bringing an adult man with him. The man introduces himself as Shōyō Kawahiru, a shinobi of Konoha who was traveling with his students to learn more about ninjutsu. Shōyō asks Ryun his name, and Ryun, tearful that a man would care to take him in, replies, for the first time admitting his surname of "Uchiha". Shōyō then accepts both Ryun and Tora among his students.
Team Shōyō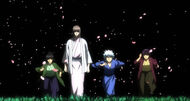 Sometime later, Shōyō leads his group, consisting of Ryun, Tora, Seireitou, and a boy named Hikaru Kurosaki, into the relatively peaceful Land of Mountains. Shōyō had established a small schoolhouse in the foothills of Goddessdrop Mountain in order to teach orphaned children ninjutsu. Here, Ryun learned the basis of ninjutsu and to develop his skills as a shinobi. On one such day, after a long afternoon of training and lessons, Ryun and Seireitou sat on a ledge overlooking the school. There Ryun expands on his idea to create a village, saying that he'll build it around Shōyō's school and that it will be a place of acceptance for shinobi of all clans and backgrounds, even those with kekkei genkai (remembering Yagura's persecution of those shinobi). Seireitou scoffs at him, saying such a dream was ludicrous.
Shortly thereafter, Ryun celebrates his ninth birthday, which is particularly eventful for him, as it is the first birthday he actually celebrates. During the festivities, Shōyō asks him what his dreams for the future are. Much to Seireitou's embarrassment, Ryun tells the group his plans to build a village on the spot where they stand, in order to promote the idea of peace and acceptance throughout the ninja world. To Seireitou's surprise and Ryun's delight, Shōyō smiles and happily accepts the idea; calling it a noble work. After an unknown period of time, Ryun and Seireitou's friendship begins to develop into a rivalry, with both trying to outdo the other. However, the gap between the two boys is greatly widened when Seireitou awakens his clan's kekkei genkai, the Byakugan.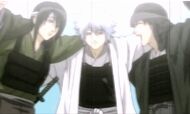 Several years later, the Third Shinobi World War broke out and Shōyō desired to take his now-teenage students to the Land of Fire to help extinguish some of the border disputes. There, the group demonstrated their unrivaled teamwork, quelling conflict after conflict for their superior skills. Unfortunately, during the aftermath of one of these conflicts, a group of Amegakure shinobi tracked them to their camp. The following day, these Amegakure shinobi ambushed them, immediately restraining Ryun, Seireitou, and Hikaru, before they could act. They then captured Shōyō, who offers no resistance in exchange for the release of his students, and execute him before their eyes. As his teacher's blood splatters across his face, the pain of losing the only man to ever love him as a father does his son, causes Ryun to snap — the pain from his childhood flooding back in a hatred so intense that Ryun later notes that it felt like an inferno consuming his chest. In these moments, the Sharingan is awakened within Ryun and quickly progresses to the Mangekyō Sharingan, having lost the one person other than his brother, Tora, to have loved him as family.
Advancing His Dreams
After Shōyō's death, the remnants of Team Shōyō retreated to the schoolhouse in the Land of Mountains. There, Ryun declared that the shinobi world must be broken and started anew, but Seireitou, who still carried Shōyō's will, suggested that they return to the Land of Fire and continue their duty of quelling border disputes. Ryun grinned, telling Seireitou that he never had understood his dreams, and that, from that point on, they would be rivals of the ultimate sort; battling until his dreams were achieved. From that point on, the two former friends fought on a constant basis, as Ryun tried to build the Land of Mountains' reputation.
The first of these battles occurred along the Shrine River, Ryun and Seireitou fought with the intention of killing each other for the first time. During the fight, Ryun's Mangekyō Sharingan was first put to the test, activating its first technique; Amaterasu.[6] The battle was grueling and long, destroying a great majority of the riverbed and ending in a stalemate — the first of many. According to Ryun, this was the battle that established him as an equal threat to Seireitou. During a subsequent battle, Ryun's experience with the Sharingan began to grow, allowing him to gain the upper hand in the battle for a short time. With each battle, each rival's skills improved, whether Seireitou's Gentle Fist, or Ryun's Sharingan.
As the years went on, Ryun gathered followers in the Land of Mountains, and even among the Uchiha clan in Konohagakure. The two groups would often battle whenever they crossed paths, and the two leaders, Ryun and Seireitou, would always have one of their titanic battles during the course of it. The endless conflict led Ryun to overuse the Mangekyō Sharingan, so, being the now cold and ruthless leader of the Mountains' faction, Ryun develops a specialized medical technique, which regenerates his eyesight, allowing him to forever wage war with Seireitou, without fearing the loss of his light. Slowly, Ryun began to see Seireitou as a symbol of the complacent shinobi world; fixated on his views of justice. And for that, Ryun hated him, seeing in him the same thing he saw in Yagura. Yet, his hatred for Seireitou was equaled by his respect for him, and even more by his lust to best him in combat.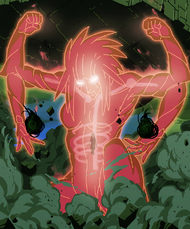 During another such encounter with his rival, Ryun unveiled his Mangekyō Sharingan, and his newly awakened ability to preform Susanoo. The battle was of such proportions, that it tore a rift in the valley in which they fought. During this particular battle, Seireitou pleaded with Ryun to let their battles end, so that peace could reign. Ryun retorted that he gained his shinobi skills to make the ninja world pay for the crimes and atrocities it had committed when he was a boy, and that, until it did, he would never be peaceful. In the aftermath of this battle, Ryun returns to Shōyō's old schoolhouse, forming an agreement with the other clans in the Land of Mountains, and officiating the construction of Yamagakure at the foothills of Goddessdrop Mountain. The Third Shinobi World War ended shortly thereafter, and the peacetime allowed Yamagakure enough time to get back on its feet, with Ryun being named the First Yamakage. His dream now closer than ever to completion, Ryun decided to face his old rival one last time and defeat him for good.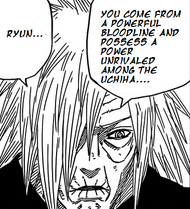 Immediately thereafter, Ryun leaves his fledgling village to hunt down Seireitou and end the feud between them once and for all. During this time, he somehow learned that an ancestor of his clan, Madara Uchiha, had survived his battle with the First Hokage, Hashirama Senju. Having never many true members of his clan, Ryun ventured out to find his lost ancestor, until eventually finding him in the Mountains' Graveyard. To Ryun's surprise, Madara knew of him, introducing himself as the boy's grandfather, and welcomes Ryun warmly. Ryun does not return this hospitality, however, revealing to Madara the details of his upbringing, the recent war, and his part in it, only for Madara to coldly reply that death and war is the nature of this reality.
In his anger at the response (having remembered his master's death during the war), Ryun activates his Mangekyō Sharingan, greatly surprising the elder Uchiha, who had himself awakened the exceedingly rare dōjutsu, having, in fact, been the first to do so. After inquiring as to the nature of Ryun's Mangekyō, Madara decides to tell Ryun his "Eye of the Moon Plan" (月の眼計画, Tsuki no Mei Keikaku), luring Ryun with the possibility of restoring his master to life in the Genjutsu World. Ryun declines Madara's invitation to help him along with his plan, but agrees that the shinobi world has become wicked, the events of the previous war still fresh in his mind.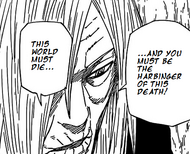 Knowing Ryun would be vital to his plan, even if it was against his will, Madara proclaims that world must end, and that Ryun must be the harbinger of such events. He announces that he will teach the secrets of Uchiha clan's full bloodline to Ryun, as well as the nature of the Yin-Yang Release and the secrets of unlocking the full power of the Mangekyō Sharingan — the ultimate tool of change, as he called it. For several months, Ryun remained in the Graveyard, studying arduously under his grandfather — learning the lore and mythology of the shinobi world, as well as the promised techniques his grandfather had for him.
Becoming a Legend
"Meaningless, huh...?! What do you know of meaningless?! Spend most of your life ruled by another. Watch your own siblings dwindle to a handful... and then tell me what has more meaning than your own strength! I have the blood of the Uchiha clan within me, you are but a joke! Yet I've watched you constantly surpass me in strength... my destiny, thrown to the wayside! You have stolen my honor... and your debts... must be paid!"
— Ryun to Seireitou after the latter calls their rivalry "meaningless"
At some point during these months of training, Ryun hears rumors of Seireitou, now an emissary of Konohagakure, making his way to Kumogakure for ceasefire arrangements between the two villages. Seizing the opportunity, Ryun rushed to where Seireitou was. Seireitou, however, has grown tired of their rivalry, calling it "meaningless"; an accusation that greatly enrages Ryun, causing him to claim that Seireitou has no idea what suffering he's been through to get his strength, and that his [Seireitou's] debts must be paid. After hearing this speech, Seireitou agrees to a final battle, declaring that he must end Ryun's hatred once and for all, even if it means killing him.
In the opening moves of the fight, Seireitou quickly outclasses Ryun, stating that he must end things quickly. Insulted by this, Ryun activates Sage Mode which greatly surprises Seireitou, who enters his own Sage Mode. The two shinobi's senjutsu is close to even, causing massive damage to their surroundings, but expending their chakra reserves at a quickened pace. Realizing that Seireitou was once again putting him on the run, Ryun decided to use his true power and play for keeps. His rage and indignation finally complete, Ryun is shrouded in a massive, "final" Susanoo. Due to the form it takes — a large "ten-tailed fox" — Seireitou calls Ryun, "Ryun of 'Ten-Tails'" (十尾のュン, Jūbi no Ryun).
With his newly completed Susanoo, Ryun begins to dominate the battle, forcing Seireitou to finally take the fight seriously. Seireitou notes aloud that it is ironic how much their rivalry mirrored Hashirama and Madara's own rivalry. He then mournfully declares that Ryun's hatred will finally be silenced, much like Madara was. Ryun scoffs at this and decides to unveil his ultimate technique; the Kokuhō. Seireitou seems to recognize the name and begins mercilessly attacking Ryun to prevent the technique's activation.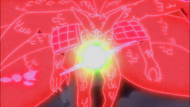 Finally, Ryun is able to form a Kokuhō and fire it. Though Seireitou is able to dodge the bomb itself, the shockwave hits him and critically injures him. His chakra expended and Seireitou wounded, Ryun resolves to finally finish the fight, as his Susanoo disperses. Seireitou makes a final plea to Ryun to end their fight with taijutsu. Ryun agrees, as his Mangekyō Sharingan reverts to Sharingan, and attacks. As the fight dragged on, Seireitou finally admits that Ryun is a formidable foe, but his hatred makes him dangerous, and therefore he must die. Nevertheless, the two continue to fight on even terms. In a final, desperate move, Seireitou charges his remaining chakra and attempts to plunge his hand through Ryun's heart. Ryun also uses his remaining chakra, forming a small rib cage of Susanoo to protect himself. In a final act of defiance, Ryun delivers a final blow to Seireitou's neck, causing his rival to pass out. The last of his power expended, Ryun's Sharingan deactivates and, leaving his old friend to his fate, limps away from the battle.
Uniting a Land
Sometime after the battle, Ryun returned to the Land of Mountains and his fledgling village to discover that shinobi clans all over the country were at war, and a lot of animosity was being aimed at his new village. Armed with the conviction that he would unite the nation under Yamagakure, Ryun sets out to end the conflicts surrounding his village.
Appearance
While a member of the Yonkō and a veteran of many shinobi wars, Ryun himself is not a very intimidating figure. Aside from his Sharingan eyes, Ryun generally has a look of cold, detachment about him. Ryun has dark eyes and black hair that he keeps in a high ponytail, similar to how the men of the Nara clan wear their hair. During the Third Shinobi World War, he kept the remainder of his hair in a ponytail, similar to Itachi Uchiha, though Ryun's was far longer. Following the war, however, Ryun cut his hair, allowing it to frame his face only. In his teenage years, Ryun's casual attire consisted of a dark blue kosode and matching hakama. He also wore a black obi tied around his waist. However, during after Shōyō's death, Ryun's attire changed to more clan-centered clothing; a white tunic, and white haori, branded with the Uchiha clan insignia. He also wore a white Konohagakure forehead protector at the time of the Third Shinobi World War.
Not a very imposing figure per say, though Madara did note an air of power around him, Ryun is significantly muscular — likely due to his near constant involvement with combat and combat training, which has increased his muscle mass over the years.
Personality
Ryun is serious, yet arrogant and bitter due to his clan's Curse of Hatred, as well as the way he was treated and forced to live as a young child on the plains of the Land of Water. His Uchiha lineage, particularly the fact that he is Madara Uchiha's immediate grandson, has bestowed on him and inflated sense of pride and superiority, immediately holding himself and his clan's powers over nearly every shinobi he encounters from the moment he meets them. He is tremendously proud of his Uchiha heritage, considering his clan to be the most powerful shinobi clan in existence, as well as the direct heirs of the Sage of the Six Path's legacy.
As a surviving straggler of the decimated Uchiha clan, Ryun is originally introduced as an individual hell bent on proving his clan's, as well as his own, great power.[6] Before Team Shōyō was remade into the Yonkō, Ryun was depicted as being cold, arrogant, and even vengeful at times. Nevertheless, it was revealed early on that he had a deep and profound love for his six younger brothers, who also survived the clan's destruction, which has driven him to preform several heroic deeds, while at the same time furthering the hatred for his home village, and strengthening his dōjutsu. He is particular to his youngest brother, Tora, who was the last one left alive after the horrors of the Kirigakure Civil War. Although, despite this, he later is shown to have a genuine affection for Yamagakure, the village he settles down in, and begin forming other bonds outside of Konohagakure. Being born to the ruling lineage of the Uchiha clan, Ryun has, from a young age, been obsessed with achieving the full powers of the clan's bloodline, much like his grandfather. Unlike his close friend and rival, Seireitou Hyūga, Ryun is tactical when it comes to fighting — rushing straight into battle to get a feel for his opponent's abilities before beginning his real attack. However, his hatred, and occasional arrogance, often cause him to underestimate his foes, such as he did in the battle with Myoken.[7] Among the Yonkō, he is easily the most serious, when compared to the eccentric Seireitou and Hikaru, and also one of the most intelligent. During the battle between himself and Seireitou, and Hikaru, he also demonstrated the desire to get to the point, hating the fact that both Seireitou and Hikaru enjoyed toying with each other before getting serious.[8] Despite this, however, he has shown to take some gratitude out of mocking and tormenting his opponents.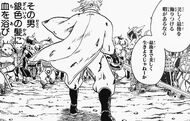 As a shinobi, Ryun is both cold-blooded and ruthless, so much so, that, in order to draw out Hikaru Kurosaki to fight, he kidnapped and held his son.[9] As a child, however, he was oblivious and jovial, which all changed after the death of his sensei, Shōyō Kawahiru, during the Second Shinobi World War. Following his and Seireitou's battle with Hikaru, he was shown to soften up some, reducing his rivalry with Seireitou to something of camaraderie and sportsmanship. Despite this, he could still kill in cold blood during times of war, when facing an enemy who threatened his bonds with his brothers, as well as the new bonds he had formed with his teammates.
Following this, Ryun became more focused and calculating, focusing on his final, sole determination — to protect his two younger brothers at all costs. This conviction has become so strong that he will quickly sacrifice his own well-being for that of his siblings.[10][11] He begins to lack empathy for those friends of his who show wavering loyalty to him, or display a threat to either of his brothers, as well as Seireitou, shown when he attempted to kill one such former comrade over threatening Tora, and actually attempting to kill Seireitou.[12][4]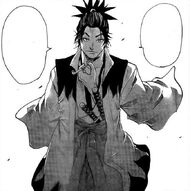 In peace times, or when under great pressure, Ryun has shown a more relaxed side of his personality. In his free time, he enjoys smoking from a smoking pipe. He enjoys taking walks through his village when he is feeling extra stressed, and, while doing so, will often tuck his hands out of the middle opening in his haori, leaving the sleeves to flap wildly in the wind — a trait he shares with Itachi Uchiha.
As the leader of a village, however, Ryun has shown to be stern; making harsh, even cruel decisions at times for the overall sake of the village. These decisions rarely seem to faze him, as he has learned from a young age to kill his feelings when making sacrifices for the betterment of the general population.
Nindō
Ryun seems to have inherited his "nindō" (忍道, Ninja Way) from his grandfather, Madara Uchiha. According to Ryun, his ninja way is "to break the cycle of this world" (この世界のサイクルを, kono sekai no saikuru ni bunkatsu shimasu).[3] During his battle with Sannoto Senju, Ryun elaborated, boldly stating that his nindō was shared with not only Madara, but also Hashirama Senju, and even the Sage of the Six Paths himself — though each shinobi had their own interpretation of it. For Ryun, this meant breaking the cycle of war, hatred, and murder, which he had fallen victim to during the as a young boy growing up in the Land of Water, and which he hoped to shield his brothers from.[3] Ironically, however, following his meeting with Madara, Ryun seems to believe that war is the only way to break the world's "cycle". By inflicting the pain he felt on others, he hoped to make them understand one another, thereby stopping their meaningless conflicts. For example, during his battle with Sannoto, he claimed that if Sannoto wouldn't cease the meaningless battle (as Ryun had a clear advantage), he would beat the sense into him so that he would stop.[3]
Rivalry with Seireitou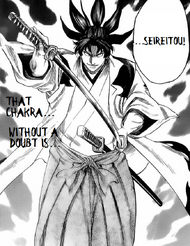 In light of all of this, his defining trait has always been his intense rivalry with Seireitou and his downright obsession to surpass him in power. Seireitou himself has noted that he and Ryun possess a similar rivalry to Hashirama Senju and Madara Uchiha. From a young age, Ryun has considered Seireitou to be his single greatest obstacle; even going so far as to say that he is the hurdle he must overcome to "break the cycle of the world". In this way, Seireitou exists as the ultimate personification of Ryun's nindō. Because of this, he harbors an unhealthy lust for overcoming Seireitou at every available opportunity. He also seems to have an unnatural enjoyment of fighting Seireitou, having once stated that the only death he foresees as honorable is one that comes in combat with his greatest rival.
Just the feel of Seireitou's chakra is enough to stir Ryun's blood and cause him to prepare for battle. At one point, his desire to surpass Seireitou was so strong that he actually broke down in tears at the thought of not being able to surpass him.[13] Ironically, this obsession had lead him to save Seireitou's life several times, in order to give him the opportunity to beat him himself.[7][14] His general opinion of Seireitou being seemingly one step ahead of him bordered on contempt until after the two fought Hikaru, turning into genuine respect and friendship from that point on.
Abilities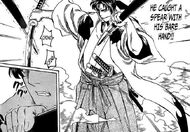 Ryun is considered to be one of the most powerful Uchiha clan members to have ever been born[15]; being called the rebirth of his grandfather, the infamous Madara Uchiha. During both Part I and Part II of Enken, Ryun is called a "legendary shinobi", likely due to his role as a war veteran of the Kirigakure Civil War and the Third Shinobi World War, as well as being a prominent member of the Yonkō, and the First Yamakage. During Part II, he is renowned as one of the most powerful shinobi to have ever lived, having himself trained many soon-to-be prominent shinobi as part of his nindō, such as Ryuka Uchiha.[16] In Part I, he was shown to be able to stand up to the likes of Kamui Uchiha, who was said to be stronger than all four Yonkō.[17]
From a young age, as an orphaned child in the countryside of the Land of Water, Ryun was a skilled individual. For several years, he lead his younger brothers across the countryside, even learning to fight when the Kirigakure Civil War was raging across the land, until eventually being selected by Shōyō Kawahiru to become a student of ninjutsu. His growth only continued, as he became a candidate for special medical ninja training at the age of nine — a protege of the Uchiha clan, and one of the only ones to have been trained as a medic. He proved himself more than capable of fighting against Kage-level shinobi like Seireitou Hyūga, Hikaru Kurosaki, and Echo Uchiha. He could also easily surpass the former Raikage, and prefect jinchūriki, Kai Saizu. As a Yonkō, his power was such that, during his meeting with Kurisu Taizen, the latter shinobi, also a former Raikage, referred to him as "Ryun-sama" (竜様, Lord Ryun), which was also later an honorific used by Jinsuke Uchiha when identifying him.[10][3]
Ryun is also notable in Uchiha history, as the one of the few clan members capable of awakening all of the ocular capabilities of the Uchiha clan; the Sharingan and Mangekyō Sharingan, as well as his Mangekyō's three techniques. Though he accepted it begrudgingly, Yoshitsune Uchiha compared Ryun to Hashirama Senju; stating that it was a compliment due to Hashirama's immense power,[15] and Sannoto Senju claimed that Ryun was the closest person alive to the Sage of the Six Paths.[3] Ryun's power with his various abilities lead him to being able to take on eight S-class ninja, with no harm to himself, and defeat them with little issue.[3]
Chakra Prowess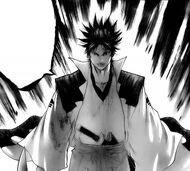 Ryun's chakra is well known to be both potent, and gargantuan in reserves. The only time Ryun has been known to consciously conserve his chakra is in battles with opponents with chakra levels rivaling his own, such as in his numerous battles with Seireitou Hyūga, Echo Uchiha, and in his brief skirmish with former Hokage, Josho Adashino.[18][2][19] According to Kurisu Taizen, Ryun's chakra exceeded his own and was comparable to that of a tailed beast[10], making him one of the few shinobi to be compared to such, without being a jinchūriki himself. His chakra is enough to allow him to maintain his Mangekyō Sharingan techniques for long periods of time, and use multiple high level techniques without showing any sign of fatigue.
As noted by Shōyō, however, Ryun is extraordinarily good at controlling his chakra despite its large volumes. Because of this, along with Ryun's personal conviction, Ryun was trained as a medical ninja from early the age of nine on, and has been able to master various medical techniques beyond the scope of an average medic ninja. His control over his chakra is such that he can physically exert its presence on those around him as a form of intimidation. Using the same principles, he can also expel chakra from his body as a form of replant defense.
Taijutsu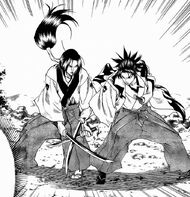 Though certainly not his preferred mode of fighting, Ryun has shown a considerable degree of skill in taijutsu. In his battle with Kurisu Taizen, he was shown to have enough versatility to change tactics in midair, surprising his foes before landing his attack.[10] In his earlier battles with Seireitou, he would use taijutsu almost exclusively when he wanted to conserve chakra and feel out his foes strengths and weaknesses. Ryun was at least skilled enough in the art to fend of Seireitou briefly in order to prepare chakra for a counter-attack.[18]
He was also more than capable of fending of Josho Adashino, the Hokage at the time, with taijutsu alone early on in their battle.[19] His speed is the primary feature of his taijutsu skills. He proved fast enough to fight on part with a Sage Mode-enhanced Seireitou, including evading his equally fast golden tendrils, created from chakra he had obtained from Kurama — the Nine-Tails. According to Ryuka Uchiha, one of Ryun's first students, Ryun's speed rivaled that of Otonami Sokudo, one of the fasted recognized shinobi in the village of Konohagakure.[20]
After learning senjutsu from the snakes at Ryūchi Cave, Ryun was taught the Snake Kata-style of taijutsu. With it, he can dangerously enhance his unarmed attacks with senjutsu auras. Because of the nature of Snake Kata, he can also apply this to weapons if he so wishes. To do this, he activates his body with senjutsu chakra, then mimics the movements of snakes to cause fatal injuries with little contact needed. He also claims that it is the perfect counter for his rival, Seireitou's, Gentle Fist, though it is unknown how he achieves this.
Ninjutsu
Nature Transformation

Due to his Uchiha lineage, Ryun is a specialist with Fire Release ninjutsu. Under Shōyō, he learned to preform the standard Fire Release: Great Fireball Technique. While his fellow students took to learning two or more nature types to increase their arsenals, Ryun devoted his attention to the Fire Release, mastering it to such a degree that the flames can sometimes turn white; a sign of their heat and intensity being brought to the maximum. Due to his massive chakra reserves, he can also create sizable fire techniques, which can reach the same size as his completed Susanoo.
His signature technique seems to be the Fire Release: Blast Wave Wild Dance, though he uses his version in a unique fashion — not needing the assistance of a space-time ninjutsu to add the cyclone-like effect. Rather, it is his own mastery of his chakra that allows him to preform the technique. As his signature technique, he has created several spin-off techniques that derive themselves from it.
Medical Ninjutsu & Senjutsu
Having been concerned with the safety and healthy of his brother(s) ever since a young age, coupled with his mastery of his own chakra, Ryun began to learn medical ninjutsu under Shōyō's tutelage. His knowledge of herbs, poisons, vaccines, and the human body is extensive. When coupled with his massive chakra reserves, he can use this knowledge to invent medical techniques beyond the scopes of average medical shinobi. He possesses the ability to use basic medical techniques, such as the Mystical Palm Technique for first aid purposes, but has also mastered techniques which require more care, such as the Chakra Scalpel — even to the point of using it in battle, a feat rarely seen among medical shinobi. He can combine the two techniques, as well, to extract lethal poisons.
Ryun is particularly skilled in applying medical ninjutsu for "regeneration" (再生, saisei) purposes. For instance, he can preform the Yin Healing Wound Destruction to preempt damage to a particular area of his body, allowing him to be healed at a faster pace. He is also the inventor and sole user of the Phoenix Rebirth Technique — a technique which allows him to flood his chakra pathway system with his special medical chakra, healing any point in his body, even internal organs that have been damaged. Using this technique, he is able to bypass the need for an Eternal Mangekyō Sharingan, as he can continuously regenerate his eyesight.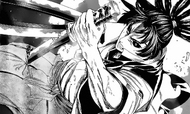 As a master of Sage Mode, Ryun has devoted his entire senjutsu experience to improving his medical techniques for usage in battle; thereby having the adverse effects of not being suitable for treating others while he is in Sage Mode. It has, however, afforded him new liberties while in battle. His Chakra Scalpel, for example, can now be extended and, if he so chooses, can also make fatal cuts, which is almost impossible without Sage Mode. It also allows him to use his most potent medical technique — Sage Art: Heavenly Rejuvenation of the Phoenix, a technique which affords him temporary immortality, as well as extraordinary regeneration capabilities, in exchange for rapidly consuming his senjutsu chakra and shortening his lifespan.
Bunshinjutsu
Ryun possesses a unusually strong aptitude for bunshinjutsu, especially the Shadow Clone Technique. In almost every one of his early battles with Seireitou, Ryun made liberal use of the technique, in combination with his Substitution Technique, to make feigns and to distract Seireitou from his true objectives.[6][21][22][1][23] He would also use the technique for training purposes, such as he did when helping Otonami Sokudo create one of his own unique techniques.[24][20] On even rarer occasions, he would use the Multiple Shadow Clone Technique, though he would only do so sparingly because it split up his chakra. He could create upwards of one thousand clones with this technique, as demonstrated in one of his many battles with Seireitou.[25]
Bukijutsu
Raian is considered a master in the use of ninja tools. During one of his many battles with Seireitou, he was shown to be able to employ a vast number of strategies involving ninja weapons. He is skilled enough to throw dozens of kunai at the Hyūga, causing enough of a distraction to produce an opening for his own ninjutsu.[21] He has also shown himself to be particularly skilled in the use of shuriken[26][3], and can at least wield a sword respectably. In addition, Ryun's shurikenjutsu, in particular, was such that, in his battle with Kamui, he shocked Seireitou at his proficiency — being able to combine it effortlessly with Amaterasu without a single hand seal.[17]
Tessenjutsu
Taking after his grandfather, Ryun makes use of a large red gunbai in combat. It is his preferred weapon when engaging in combat. Like Obito's gunbai, it is highly durable, able to take brutal damage without breaking or being too heavily damaged. He can also use the fan much like one would use a sword, or a war hammer. Due to its durable nature, it can produce heavy damage if used on a human, or other living creature. Using the chain attached to the handle of the gunbai, he can swing it like flail, turning it into a long-ranged weapon. He can also use the Uchiha Return technique to reflect the damage caused by other ninjutsu back on their users using the fan's flat surface.[3] He could also use it like a sword, parrying blows from other sword users, and even using it to deflect projectiles.
Summoning Technique
Early on in his life, not unlike other great ninja, such as Orochimaru, Ryun's animal alignment has always lay with the snake summons of Ryūichi Cave; particularly Nag and Nagaina. After returning from the Cave, towards the end of the Second Shinobi World War, in a training match with Seireitou, he revealed his ability to summon snakes in various ways.[1] In addition to the traditional Summoning Technique, Ryun can also make use of other variations of the Summoning Technique, based on snakes, such as the Hidden Shadow Snake Hands, and its larger version, Many Hidden Shadow Snake Hands.
Dōjutsu
Sharingan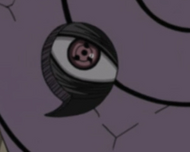 Ryun first awakened his Sharingan when he was seven years of age, during one of his earlier missions with Team Shōyō. Upon witnessing several innocent bystanders be slaughtered by enemy ninja, Ryun's Sharingan awakened, for the first time, with one tomoe. It wouldn't be until three years later, during the Chūnin Exams, that it would awaken a second time, this time with two tomoe, and from then on, be within his control. At first, Ryun only used the Sharingan for its more novel devices; copying techniques to build his arsenal of techniques, and tracking difficult-to-follow movements. When he was around the age of sixteen, about the time of his Jōnin promotion, he was said, by village officials, to have mastered his Sharingan.
By Part I of Enken, he was able to successfully employ the more useful traits of the Sharingan, such as casting powerful genjutsu with just a glance.[27] By the time he fought Josho, his genjutsu were strong enough to bind and manipulate the Hokage without his even being aware he was under the influence of genjutsu.[19] In his second battle with Seireitou, he was even shown to be able to cast certain genjutsu without even making direct eye contact.[22] Aside from just genjutsu, Seireitou confirmed, in one of their later skirmishes, that Ryun is able to suppress the powers of tailed beasts, even ones such as Kurama, with just his Sharingan[18] — a feat previously only achieved by Madara and Obito Uchiha.
Mangekyō Sharingan
Following the death of his mentor and lifetime friend, Shōyō Kawahiru, Ryun awakened his Mangekyō Sharingan. It took on the appearance of a three-pointed pinwheel. Shortly after, during his training with the snakes, particularly the White Snake Sage itself, his Amaterasu technique awakened. Ryun is capable of using three Mangekyō Sharingan techniques; utilizing Amaterasu with his left eye and Tsukuyomi with his right. With both eyes, he can manifest the spectral technique, Susanoo. Among the Uchiha, Ryun is considered the most proficient user of Susanoo, and could use it in conjunction with other powerful techniques to produce more powerful ninjutsu.[15] He also uses it as a suicide technique, plowing through otherwise dangerous techniques unharmed due to Susanoo's endurance.[15] During the final stages of the Second Shinobi World War, he learned a fourth technique, Yasaka Magatama, which is a projectile technique.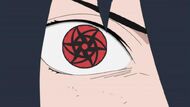 Due to repeated overuse of these abilities, however, Ryun slowly and gradually started becoming blind. During the final battle of the Second Shinobi World War, Ryun's uncle, Yomi Uchiha, who had also awakened his Mangekyō Sharingan, was killed, allowing a grieving Ryun to take and transplant them, creating an "Eternal Mangekyō Sharingan". His new eyes take the form of a windmill, having infused Yomi's eye design with his own. These new Mangekyō had no threat of losing their sight. With it, his Mangekyō abilities improved drastically. His Susanoo, in particular, was able to enter far more humanoid forms, gaining legs and feet. It's appearance also changed slightly; becoming much larger than before, and gaining a gourd to store its Tonbogiri.
Susanoo
As stated above, Ryun was said to be the most gifted user of Susanoo born into the Uchiha clan, likely because of his intense chakra and vitality, which allowed him to sustain it, where other Uchiha took a great toll from its usage. In its stabilized final form, it takes on the form of an immense (around the size of Kurama) fox, bearing ten-tails. During the Second Shinobi World War, the shape and overall ferocity of his Susanoo earned him the name "Ryun of 'Ten-Tails'" (十尾のュン, Jūbi no Ryun), as well as "Ten-Tailed Fox" (十尾の狐, Jūbi no Kitsune).[4] In the years following, even the other Yonkō recognized this Susanoo as a force to be reckoned with — with Seireitou and Hikaru considering it to be on par with the power of a tailed beast.[8][18]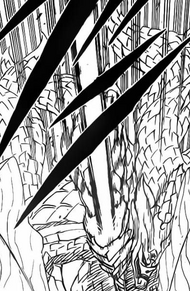 True to this theme, Ryun utilizes his Susanoo much like a jinchūriki utilizes their tailed beast transformations — with the full, final transformation only being used as a last resort.[3] Unlike in the normal Mangekyō Sharingan version of his Susanoo, the new Eternal Mangekyō Sharingan version has no gourd, therefore, it caries his Tonbogiri, and other spirit weapons, in its numerous hands. Much like Datara, he can also wrap himself in the specter's ten tails, providing additional protection. According to Ryun, only Seireitou Hyūga can hope to stop him while he is fully transformed in his Susanoo. Like his grandfather, Madara, Ryun can channel his various ninjutsu through Susanoo to vastly increase their strength. He can also use his own version of the Tailed Beast Ball, the Kokuhō, while in this form, as a type of mimicry — homage to his tailed beast-like appearance.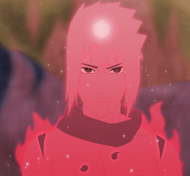 By forming Susanoo around his body, equipping it to himself, Ryun can form what he calls the "true form of Susanoo" (佐能乎の本地, Susanoo no honji). In this state, he wears the chakra and armor of Susanoo on his body like clothing, with the glowing gem of Susanoo's head resting on his own forehead. Ryun claims that this form is the perfect counter to a jinchūriki's Tailed Beast Chakra Mode. In addition to having Susanoo's perfect defense wrapped around his body, Ryun can also manifest any of his stabilized, final Susanoo's limbs; including its ten tails.
Rinnegan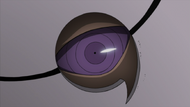 Due to being a full-blooded Uchiha, who also has Senju genetic material, thanks to having an artificial left arm made of Hashirama's DNA, Raian was eventually able to awaken the Rinnegan. Though it is not known how exactly he awakened the Rinnegan, it is known that he had awakened it by the time he had returned from his senjutsu training.[1] With the Rinnegan, he gained access to all five traditional nature transformations, as well as the Yin-Yang Release. He also gained the ability to use the Six Paths Technique, which he has always funneled through his own body, rather than using a reanimation technique and channeling it through other bodies, like other users of the technique.[1][15] Like his grandfather, Madara, he is also shown switching between his Eternal Mangekyō Sharingan and the Rinnegan with ease, in order to use the best of both dōjutsu's techniques and abilities.[1][15][16] Perhaps due to his mastery of the technique, he can use Susanoo even while his Rinnegan is activated.
Intelligence
Deception & Strategy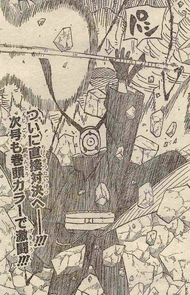 From the very beginning, Ryun was an extremely deceptive and intelligent individual, shown by the way he implemented clones as a clever deception during his early battles with Seireitou.[6][21][22][1][23] He is also extraordinarily talented in deceiving his opponents in order to make them think that he was less intelligent than he actually was. During his battle with Josho Adashino, he made Josho believe that he believed he had cast Tsukuyomi with only his normal Sharingan, causing Josho to underestimate Ryun's intelligence, which led to him being easily trapped in one of Ryun's basic Sharingan genjutsu.[19] He also would frequently lie about his chakra reserves in battle, doing so once in a battle with Seireitou by claiming that he only had chakra enough for one final technique, causing Seireitou to lower his guard and expend all of his own chakra, before pulling out his true final technique, appalling Seireitou and allowing himself to win the battle — the first real victory he had ever had against his rival.[23]
In his battle with Josho, Ryun was shown to purposely hold back his full potential, allowing him to view the true capabilities of his opponents, such as what they were good at, and where their weaknesses lie, before unleashing his true power and targeting their weaknesses.[19] The true extent of his in-battle intuition is shown during his battle with Kurisu Taizen. With only a few moves, he was able to deduce Kurisu's chakra reserves, his nature transformations, the strengths and weaknesses of his implanted Sharingan, as well as how to methodically counter each.[10] Even during the three-way battle between himself, Seireitou, and Hikaru Kurosaki, Ryun proved his intelligence by having Seireitou fight Hikaru whilst he set up elaborate traps and techniques, before truly entering the fray.[8]
Learning Capabilities
Even during his younger days, Ryun was an exceptional learner, being chosen by Shōyō Kawahiru, the most respected Jōnin of his time, for this very trait. Despite his injuries during the Second Shinobi World War, which left him with an artificial limb, created with the cells of Hashirama Senju, Ryun quickly learned to reuse his arm functions, as well as the Wood Release abilities that lie dormant in the arm's DNA. His growth was so extraordinary, that he would frequently even surprise those that were around him constantly, such as in his battle with Kamui Uchiha.[17] He quickly learned form his mistakes, and developed new fighting styles to fill in the gaps left by the previous style. This is best demonstrated throughout the numerous battles he has had with Seireitou Hyūga; with the gap of power between the two tremendously closing with each interval between fights.[6][22][23]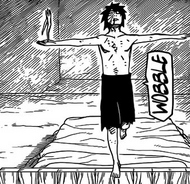 Perhaps the best known example of Ryun's learning capabilities is his learning to use senjutsu — Sage Techniques. With in the course of a few short months, within the period of the Second Great Shinobi World War, Ryun was able to ascertain the nature of Sage Mode and several sage techniques, enough to put him on par with Seireitou Hyūga, who had mastered the Sage Mode of the foxes long before Ryun himself.[1] In addition to this, he was able to quickly master the training of the White Snake Sage[13], and learn an immense amount of information during his training with fellow teammate, Hikaru Kurosaki.[28] He was also able to master chakra control within a single day, thanks to his training with Echo Uchiha.[29] Some of his skill progression can be attributed to his mastery of the Sharingan and its useful tools.
Historical Knowledge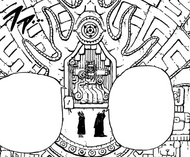 Ryun seems to possess a great deal of knowledge on the history and mythology of the ninja world. Following his awakening of the Rinnegan, Ryun seeks out information on the Sage of the Six Paths, the dōjutsu's first wielder, first in the Naka Shrine of the Uchiha clan, and then at the sacred mural of the Six Paths in the Land of Fire.[13] He also seems to know a great deal about the Ten-Tails, including the beast's true name — Datara.
Perhaps due to his connection with Seireitou Hyūga, Ryun also knows a great deal about the history of the Hyūga clan, including who the clan's founder was, and his relation to the First Hokage, Hashirama Senju, as well as the Uchiha clan leader, Madara Uchiha. Being Madara's grandson, he also knows a significant amount of information on the legendary Uchiha, including his prowess during his prime, demonstrated best when he fought Yoshitsune Uchiha.[15] During the battle between himself and the Big Eight, Ryun also showed knowledge on Sannotō Uchiha, a relatively unknown member of the clan, and his famed technique, Amatsu.[3]
Wars and Events
The following are the wars and major events Ryun has taken part in;
Creation and Conception
The idea for Ryun Uchiha came to me when I first joined the Naruto Fanon wiki. He was basically suppose to be me put into the Narutoverse, and still to this day possess traits similar to me; such as his care for his brother. While my care isn't for a blood brother, it is for my cousin, someone I view as a brother and a best friend. His fear of spiders is also inherited from me (I HATE spiders!!). After his revamping, I was going through a lot of bad stuff in real life, and used him as a medium in which to express my horrible and awful emotions and pain.
Upon doing so, my friends frequently commented to me on how much my emotions and my usage of Ryun resembled how Sasuke was developing in the manga. At first I was skeptical. I mean, yes I did read the manga, but I wasn't inspired by Sasuke, nor was I sympathetic to his goals. When I put together the whole Mataiden back story, I chose Danzō as the antagonist, just because he didn't seem to like Uchiha, and he seemed to be willing to even kill children to obtain peace; not because he was responsible for most of the Sasuke-Itachi drama. In fact, I truly hated Sasuke for the way he was acting. In contrast to each other, Ryun actually had a reason for wanting Konoha destroyed. They quite literally sacrificed his brother for peace, while Sasuke had killed his own brother and even knowing Itachi's wishes, went against them.
His nickname, Tsukiakari no Michishirube came about two ways. When I made Tsukiakari, the organization he founds, I had yet to find out their was an anime opening with a song of the same name. The next day, when I was fishing around YouTube for an opening for Part IV, I found it in the form of a Darker than Black opening; an anime I loved, but hadn't caught up on just yet. I gave him that name to be both a pun on the song, and on the organization.
Influences
The largest influence on Ryun was myself. As stated earlier, Ryun is my personal manifestation of the author in the Naruto universe. After he and Seireitou Hyūga's rivalry got more and more intense, both the author and his co-writer, User:Silver-Haired Seireitou, began to notice a similarity between Ryun and Seireitou's rivalry, and that of Goku and Vegeta's own rivalry. From then on, both authors intentionally drew on elements of their respective characters (with Goku resembling Seireitou and Vegeta resembling Ryun), such as enhanced personality aspects, and similar abilities. After the resurrection of Madara Uchiha, and a deeper explanation of his rivalry with Hashirama Senju, both authors realized that their characters represented the canon ideals of the Will of Fire and the Curse of Hatred, so those elements were also included.
Quotes
(To Seireitou) ""Meaningless, huh...?! What do you know of meaningless?! Spend most of your life ruled by another. Watch your own siblings dwindle to a handful... and then tell me what has more meaning than your own strength! I have the blood of the Uchiha clan within me, you are but a joke! Yet I've watched you constantly surpass me in strength... my destiny, thrown to the wayside! You have stolen my honor... and your debts... must be paid!"
(To Hikaru Kurosaki) "What is my desire in this life? Hmm... that would be easy. To break the cycle of this world. That is my ninja way." (「この生命の私の願いではないでしょうか? ...簡単にすることと思います。 この世界のサイクルに分割します。 私の忍者方法です。」, "Kono seimei no watashi no negai dehanaideshouka? Kantan nisurukototo omoi masu. Kono sekai no saikuru ni bunkatsu shimasu. Watashi no nindō desu.")
(To Suzaku Hyūga) "Afraid not! There is more than one way to awaken these eyes! Yes... To each his own. My motivation was very different from my grandfather's. My motivation was to be the best! To be the greatest shinobi alive!"
(To a White Zetsu clone) "Oh, is that a fact? Then why were you surprised when Hyūga activated Sage Mode? I'll tell you why, because your 'recordings' doesn't cover the battles we had during the Second War! Your bonehead creator picked a fine chapter to omit from your records. That's right, my friend — does a clone, like yourself, ever experience fear?!"
(To Danzō Shimura) "You're not going anywhere! You will pay for your part in this, just like the others. But you should know... I do this not for the village, or my clan, but because you thought you could make the grandson of Uchiha Madara a slave to your whim!"[30]
(To Hikaru Kurosaki) "There is no such thing as fair or unfair in battle. There is only victory, or, in your case, defeat!"[9]
(To Hikaru and Echo Uchiha) "It is painfully clear at this point that no one within this team is stronger than Sei is. Not even... myself. So, he deserves to have the fight of a true warrior, and that means... to the death."
(To Sannoto Senju) "Yes, it would seem your friends were quite effective before I stomped them. Now's your chance to beat me! A vicious attack now should be sufficient."[3]
(In response to the amount of Mangekyō Sharingan) "Did I miss something?! When was it that the legendary eye powers of the Uchiha clan were reduced to a child's plaything?!"
Trivia
References