Sophey Sebvert
Talk

0
18,573pages on
this wiki
""I will help anyone in need."

editSophey Sebvert

(Sophey Sebvert)

Debut

Appears in

Anime, Manga, Game and Movie

Voice Actors

English
Japanese

Personal

Birthdate

July 7

Gender

Male

Age
Height
Weight
Blood type

A

Affiliation

Konohagakure

Clan

Rank

Ninja Rank
Ninja Registration

300099

Academy Grad. Age

14

Chūnin Prom. Age

14
Sophey is one of the last surviving members of his clan. Sophey wasn't part of the Royal family Branch which is related to the first Sebvert. Instead, his family was part of the C branch which were the lower class members. Sophey's village was burnt to the ground killing exactly 93% of his clan. Since Sophey's father was the oldest survivor, he became the new clan leader.
When Sophey was born, he was born into a poor family who weren't treated with must respect because of their low finances. Sophey was often teased about his poor family and was often savagely beaten by a group of multiple boys. Ever since Sophey started getting teased, Karuki Sebvert was the only person to defend him.
At the age of ten, Sophey would train vigorously to become stronger than the boys whom would constantly beat him up. His thoughts of revenge suddenly changed when Karuki told him that, "A robust person doesn't use their power for revenge. I just hope that you make the right choice" Although Sophey didn;t know what robust meant because he was seven, he interpreted I hope you make the right choice.
When Sophey turned fourteen, he was beaten even more savagely than usual. Sophey received scars on the left side of his face and chest. Also another one on his right hip and a much smaller one on his left hip. Several days later, Sophey was attacked by the boys again but this time, all seven of them used a knife to stab him on the right side of his chest to get a sick laugh out of it. After hearing the screams, Karuki quickly ran to the rescue but, arrived after the boys fled. Karuki quickly took Sophey to the hospital. Sophey was in the hospital for three months then, he was sent tight back because, the seven teenagers savagely beaten him in the same spot where he received his wound.
When Sohpey was fifteen, he was being attacked by the same seven boys his age that were constantly attacked him, chased him into a store. At the store, the boys punched and kicked Sophey then, they threw him out the back door. As the boys started to loot the store, the store was suddenly set on fire. Sophey could hear the agonizing screams of the boys inside then on the other side of town, several buildings mysteriously caught on fire. Because the fire spread at an abnormal speed, the people decided to flee. The fire started to spread to every building in town. As Sophey ran from street to street searching for his parents, a building collapsed forcing Sophey to quickly jump back. Suddenly, Sophey noticed blood leaking from the right side of his stomach. When he looked down, he was pierced by an extremely hot pipe. As Sophey's sight started to blur, he was able to look ahead and see hundreds of his clansmen dead. Suddenly, Sophey screamed in pain because his father yanked him off the pipe. Sophey, his father and mother escaped from the village and took refuge on the outskirts of the Leaf Village.
Several days later while Sophey was taking a walk through the woods, he spotted long blue hair and automatically knew that it was his life long friend Karuki. Sophey used every bit of strength he had to run over to her. Compelled by emotions, Sophey forgot about his recent wound and collapsed to the ground screaming. Astonished by the sound, Karuki and her friends quickly hid in the bushes. Karuki saw two other figures but, couldn't make out who they were. Several seconds later, Karuki heard a woman yell "Sophey"! Compelled by her emotions, she leaped out the bushes and ran over to where they heard the sounds. When Karuki and her friends arrived to source of the noise she found Sophey laying over a pool of blood.
Three years later at the age of eighteen, Sophey married and impregnated Karuki with Inu Sebvert. After Inu was born, Sophey became extremely protective about his family and would constantly follow Karuki when she took Inu on a walk with her into town to make sure they weren't attacked. On several occasions when Sophey fell from the rooftops, he would always be lectured by Karuki about being to protective.
Four years later at the age of 22, Sophey and Karuki had another child. A Kunoichi named Allison. Just as Inu was the first child born out of the children whom survived the tragedy, Allison was the last child born out of the children that survived. Since Allison is the youngest of the clan, Karuki stated her middle name is, "Sainenshō-sha which means youngest".
Karuki gave Sophey the nickname of brick head because when he accidentally headbutted her once, she stated, "Your head feels like a misshapen back of bricks. I'm calling you Brick Head.
Personality
Edit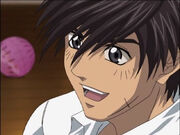 Describe by his wife and children, Sophey is over protective, friendly, extremely irresponsible and even charismatic. Sophey is also known to be very deceptive. As an over protective man, Sophey is always watching over his family.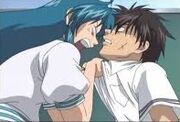 Since Sophey will loose anything that someone gives him, his family and friends have deemed him to be irresponsible. Over the years, his friend Sannoto Senju has given Sophey several materials that he lost and never replaced. Even in Sophey's very home, he will misplace several objects like Karuki's medical herbs or, Inu's weapon pouch.
Although Sophey is sort of a strict person, he is also very friendly and is willing to help others in need. Sophey believes that if he doesn't help someone thats in need then, he's a hypocrite. Sophey vows to help anyone because of his troubled past and, the fact that Karuki was always there to assist him when he was in need.
Sophey's charisma serves an excellent purpose on the battlefield. Sophey attempts to manipulate his opponent in order to cause them to loose focus and be controlled by rage so that he can easily defeat them.
Appearance
Edit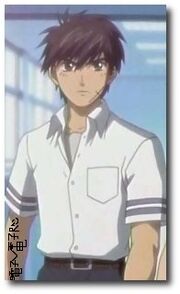 Sophey is a tall biracial muscular man with dark brown hair and light brown eyes. Sophey wears a white T-shirt with black pants and black shoes but when Sophey is being sent on a mission, he will put on a dark blue suit with a light blue strip coming down his shirt zipper and brown shoes. Sophey has scars on the left lower side of his face because he was injured during the fire that broke out in his village. Sophey also has a tattoo on his right arm that means Sebvert in Japanese. Sophey was only fifteen years old when he received this tattoo.
Abilities
Edit
Because of the constant thirst for revenge for the seven boys who constantly hurt him, Sophey would train nonstop. At the age of fifteen after his village was burned down Sophey would continuously train. Because of his rigorous training, Sophey is incredibly strong and fast.
Sophey is known around the village as a Taijutsu master. In battle, Sophey relies on his strength, speed and endurance. For a daily regiment, Sophey either carries or breaks boulders to increase his strength. This daily regiment also helps increase Sophey's endurance and speed.
Sophey has an unbelievable amount of strength. Although Sophey doesn't appear as strong as he is stated, Sophey can lift even an oak tree that is attached to the ground. The heaviest boulder that he can lift weighs at least 500 pounds. Sophey normally spends his time punching craters into the side of extremely large mountains, trees and boulders. Sophey is so talented at Taijustsu because, he didn't really show any interest with ninjutsu or, genjutsu.
Sophey is better at Taijutsu but, he is also very talented at ninjutsu. Since Sophey is a close combat fighter, he mainly uses the technique called Earth Release: Fist Rock Technique. When Sophey is forced to fight from a distance, he uses his a wind release technique and his earth release technique called Blade Of Wind, Earth And Stone Dragon and Godly Wind From The Mountains.
Nature Transformation
Edit
Just like most of the children in the Sebvert clan, Sophey was born with wind style chakra nature. When Sophey became a chunin, he wanted to learn another chakra release. Sophey believes that the Earth release represents strength and endurance.
Intelligence
Edit
Sophey isn't the most intelligent person when it comes to academics but, he is a great battle strategist. Due to the years of training, Sophey can easily outwit his opponent in any given situation. Sophey can think of any battle strategy and most of them ends with victory.
Sophey's speed is unmatched. Sophey can travel from Konoha to Sunagakure in a day and twenty hours. Just like Akihiko Senju and The Fourth Hokage. The reason why Sophey is so fast is, Sophey would run from village to village often & he would sprint around the village everyday. Sophey is also excellent at Taijutsu so his speed is a great asset in a fight.