Stone of Gelel
Talk

0
18,667pages on
this wiki
Stone of Gelel

Stone of Gelel.

Added by

King Cartman

Name

Kanji

ゲレルの石

Rōmaji

Gereru no Ishi

English TV

Stone of Gelel

Debut

Movie

Naruto the Movie 2: Legend of the Stone of Gelel

Appears in

Movie only

Data
The Stone of Gelel is a source of life energy contained in a mineral. It was first discovered long ago as a vein of ore by Temujin's ancestors. Only the royal blood of his clan could forge stones from the ore, a process performed with flesh and blood of the body. These same forgers were also the only one's capable of destroying the stones.
The entire deposit of Gelel is said to be capable of destroying half a continent. For this reason a long and costly war was fought over it, resulting in the ore being sealed away by Temujin's ancestors. In the present day, only Kahiko knows the location of the Gelel vein, and he and his followers protect its secret.
Years after its sealing, Haido found some remnants of the stone by destroying Temujin's village. Later, he also found the Book of Gelel, which allowed him to learn how to control the power of the crystal. Haido wanted to use the Stone of Gelel to rule the world. To stop him, Temujin, who carried the royal blood of his clan, destroyed the stone and the entire vein of Gelel by sucking it into a black hole.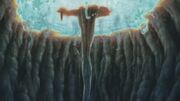 Decades later it was revealed that when Temujin "destroyed" the vein and stone of Gelel by putting it into the black hole, the black hole actually teleported the vein of Gelel in a hidden cavern located under
north
. It was later rediscovered by
hephaestus
who used a stone to forge one of his
greatest creation
and a
sword
. Fearing that others would use its power for evil her hid the location from others. The only other being that knows its location is
Ashlotte Maedel
. Due to this she is currently protected by team
Trinity Blitz
as par hephaestus least request.