EN | English translator
This user is a Wikia Language Brigadier who translates to and/or from English.

EXPAND 
The Wikia Language Brigade is a voluntary project by Wikia users to help translate their own and other Wikia communities in the many available languages. You can request translations from our Brigadiers (project members). Check out the

project page

to see which users translate to/from what languages, and leave your request on their talk page or message wall.

Being Project Member: Advantages
Fellow Brigadiers will prioritize your translation requests.
You get your name "out there" and may attract contributors for your own wiki.
Your effort will give chances to communities that need a helping hand.
The Wikia Language Brigade can always use extra members! All you need to do to join, is putting your username and language level on the project page, under every language you are willing to translate. Any further questions? Contact the project leader.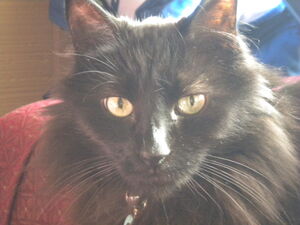 Prodigy (神童, Shindō) is an admin here on Naruto Fanon Wiki and is a regular editor of Bleach Fan Fiction Wiki. Any questions or comments you may have can be directed at his message wall.
Background
Prodigy X, who is formally known as Prodigy, first began his work on editing and creating fan fiction on August 20, 2010. He began editing on Naruto Fanon Wiki, his first fan fiction site, where he quickly gained the knowledge and experience of how to use the wiki system, as well as learning how to roleplay with his characters. In 2011, he created his (in)famous Uchiha character, Taiga Uchiha, which has been an inspiration to many Naruto Fanon editors and boasts many facebook pages (none of which are officially created by Prodigy). He was promoted to admin in 2012 by User:Ten Tailed Fox but later stepped down after having family issues requiring his fullest attention.
In 2011, about mid-year, one of his then close friends introduced him to Bleach and got him hooked almost instantly. Following some of Prodigy's Naruto Fanon influences, including User:Ten Tailed Fox and User:Silver-Haired Seireitou, he made his way here to Bleach Fan Fiction Wiki. His love for Bleach eventually outweighed his love for Naruto and he left Naruto Fanon to edit on Bleach Fan Fiction Wiki full time. He joined the Third Division under a friend, User:Nisshou, becoming the fourth seat in the division. He was later bumped up to the third seat of the division with the promotion of User:Mangetsu20 but later left the division after being promoted to captain of the Fifth Division. He is still currently very active on the site, creating several unique articles, including his race of Specters.
Prodigy also discovered a strong liking of the manga series One Piece and created a wiki, the One Piece Fanon Wiki, in December 2013. He hopes to develop the site into the most popular source for One Piece fan fiction on the internet.
Personality
Prodigy is a very friendly and helpful user who is always willing to help new members. He is always ready to lend a helping hand to anyone who needs it and his responses tend to be prompt, when not occupied with his college work. He takes his time helping people and never "blows up" at people who are slow at adapting to or are uneducated in wiki policy, procedure, tools, etc. Aside from being overly helpful, Prodigy is also an easy person to talk to and is often found in "chat" talking with his numerous friends on Bleach Fan Fiction Wiki. Whether it is shooting the breeze, talking about the newest Naruto and Bleach chapters or helping to critique a fellow users character, he is always talking with his friends. He enjoys this to the point where he becomes semi-distracted and forgets to edit his characters and roleplays.