This article, Prodigy1322, is the sole property of Prodigy and cannot be used, edited, or referenced without his explicit permission and/or written consent.
This user has made 5,453 edits.
Prodigy (神童, Shindō) is an active user here on Naruto Fanon Wiki and is a regular editor of Naruto Fanon Wiki. Any questions you have can be directed at his message wall.
Background
Prodigy1322, or Prodigy as he is more commonly referred to, first began his work on editing and creating fan fiction on August 20, 2010. Here on Naruto Fanon Wiki, he started by creating his (in)famous Uchiha character, Taiga. He was promoted to admin, Tsuchikage to be specific, on March 3, 2012 after nearly two years on the wiki. Backing up to about mid-year of 2011, Prodigy joined Bleach Fan Fiction Wiki and created a few decent characters, but left due to a small roleplaying community. As of late, he has various works going and is working on his new duties as admin of the site and has since rejoined Bleach Fan Fiction Wiki. He also found the time to start his own wiki, Young Justice Legacy Wiki where he has created a few different characters.
Personality
Prodigy is a very friendly and helpful user who is always helping new members. He is always ready to lend a helping hand to anyone who needs it and his responses tend to be prompt, when not occupied with his college work. He takes his time helping people and never "blows up" at people who are slow at adapting to or are uneducated in wiki policy, procedure, tools, etc. Aside from being overly helpful, Prodigy is also an easy person to talk to and is often found in "chat" talking with his numerous friends on Naruto Fanon Wiki. Whether it is shooting the breeze, talking about the newest Naruto and Bleach chapters or helping to critique a fellow users character, he is always talking with his friends. He enjoys this to the point where he becomes semi-distracted and forgets to edit his characters and roleplays.
Appearance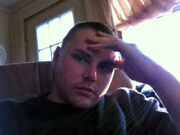 Prodigy is a "typical" (his own words) caucasian male with no unique or interesting features. He stands at five foot, ten inches tall and weights about two hundred pounds with brown hair and hazel eyes. He keeps his hair short and up to military/police standard which reflects his desire to be a police officer in the United States. He has a slight tan, although it is mostly from working in the sun during the summer, and this tends to accent his other features. His biceps and triceps, his most noticed feature, are not what you would expect of a typical Naruto roleplayer and avid Yu-Gi-Oh player. He works out with his pair of twenty pound weights daily in order to keep his biceps and triceps strong and muscular. Currently, if measured from the bottom of his tricep to the top of his bicep, it measure approximately four inches in height. Altogether, he is often found describing himself as a average guy with an average appearance.
Friends and Acquaintances of Naruto Fanon Wiki
Pages
Characters
Top Ten Naruto Characters
Bleach Top 10
Funny Pictures