Yamagakure
Talk

8
18,631pages on
this wiki
This article, Yamagakure, is an article only to be used by Ten Tailed Fox.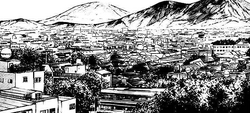 Yamagakure (山隠れの里, Yamagakure no Sato; Literally meaning "Village Hidden Among The Mountains"; also known as "Village Hidden in the Mountains" or "Hidden Mountain Village"), is the hidden village of the Land of Mountains. As a member of the Great Shinobi Countries, it has a Kage as its leader, known as the Yamakage. There has been one official Yamakage, the founder of the village, Ryun Uchiha. The shinobi of this village wear grey flack jackets, and, in their normal attire, usually wear black, white, and grey colored clothing.
History
Founding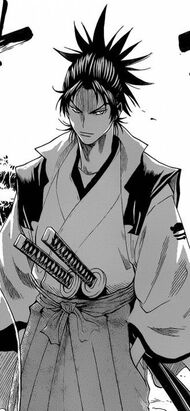 In the days prior to, during, and after the Third Shinobi World War, the Land of Mountains was left in a period of unrest. Shinobi clans, as they had done in the Shinobi Countries prior to the founding of Konohagakure, fought and warred for dominance over the others. The land's Daimyō hired the more powerful clans to exterminate the smaller ones, hoping to force the shinobi into submission, but even those clans fought against each other.
Sometime following the Third Shinobi World War, Ryun returned to Goddessdrop Mountain in the land, where his master's academy was left vacated. Over the years, Ryun gathered a significant following and gained the support of the daimyō — creating a fledgling Yamagakure around his master's old academy in the hopes of uniting the Land of Mountains under a single hidden village, as had been done in other nations. Ryun then declared war on the clans that refused to join him, aiming to beat them into submission or eradicate them entirely to prevent them from being a threat to the growing village and nation.
Though a brutal military leader, Ryun gained many of the clans' respect by personally fighting on the front lines along with his supporters, earning him the support of clans who remained on the fence. Chikagakure, a resistance point for the remaining clans, lead by the Mochizuki Clan. Ryun's victory, much of which was single-handed, is what earned him the vote of becoming the village's first Yamakage (山影, Mountain Shadow). While only a local title at first, it eventually gained world notice.
Landmarks
Clans
Organizations
See also