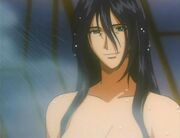 Profile
Name: Yuko Shemamora
Energy Type: Spirit
Height: 5,5
Weight: 145 pounds
Eye Color: Blue
Hair Color: Black
Yuko Shemamora is the main character for G.O.T.M.W he is a cheerfull, carefree, kindhearted, fun loving guy who always wanted to be more than just a person. He always dreams to be a hero and help the people as well as the rest of the world. Despite being bullyed by Mikey Momens, it only streathen his resolve to protect the world from evil people like him. An incident would cause them both to go on their seprate ways. Now 3 years later, Yuko decides to get some payback on his old rival. Little does he know, he'll set off a chain of events that will change his life forever.
Ad blocker interference detected!
Wikia is a free-to-use site that makes money from advertising. We have a modified experience for viewers using ad blockers

Wikia is not accessible if you've made further modifications. Remove the custom ad blocker rule(s) and the page will load as expected.